[nextpage title=" "]
We might sit for days to talk about Tom Izzo, his legacy in college basketball, his relationship with the State of Michigan, the Nba teams that tried to lure him, his quotes and funny videos. He started as an assistant to coach Jud Heatcote at Michigan State and, 33 years later, he was inducted into the Naismith Hall of Fame. In here, we try to paint an unusual picture of the coach that redefined the concept of defence in the Ncaa. Here's everything you did not know about Tom Izzo.
[/nextpage]
[nextpage title=" "]
Michigan in his veins
Michigan is to Tom Izzo what Manhattan is to Woody Allen. He was born in Iron Mountain, a village in the middle of nowhere at the furthest from the Michigan lake. The area is famous for its Bat-Viewing, thanks in large part to the Millie Hill Bat Cave. That should give a measure of the middle-of-nowhere part. When looking for more details, you might land on the Iron Mountain Wikipedia page, and in the few lines that sum up the most relevant information you will find that "it is the hometown of Michigan State university men's basketball coach Tom Izzo", together with the Millie Hill Bat Cave and a couple of skiing station. He grew up there, then on to Northern Michigan university, where he began as an assistant coach immediately after graduation and before moving to Michigan State. It is almost easy to guess where he had his first date with his future wife Lupe, mother of his daughter Raquel and with whom he adopted Steven. She offered a date and he (still an assistant coach at the time) suggested they could meet at the Big Ten final between Michigan State and Purdue. Talk about confidence.
[/nextpage]
[nextpage title=" "]
Nba can wait
A number of Nba teams tried to lure him away from the college bench, an idea that gained some traction at least twice, on occasions ten years apart: in 2000, after Michigan State won the National Championship, and in 2010. In the first case both the Chicago Bulls (it was the beginning of the post Phil Jackson era) and the New Jersey Nets showed some interest, but the team who made the strongest case was the Atlanta Hawks. In 2010 it was the Cleveland Cavaliers' turn to offer coach Izzo their vacant coaching position. Izzo himself admitted afterwards the Cavaliers' offer was very tempting, but ultimately decided to stay at Michigan State. A few days later, Lebron James revealed he was bringing his talents to South Beach. The last Nba buzzes had coach Izzo as a candidate to the Detroit Pistons bench a couple of years ago.
[/nextpage]
[nextpage title=" "]
The soul of a jester
"I think people see the gruff side of me and don't see the other side. If you asked me what I did best, I'd say what I do best is I care about people in my basketball family when they're here and when they're gone."
Sure, the "gruff side" is there, but Izzo is a true comedian and it is easy to find funny Youtube videos of him.
…Izzo playing the accordion…
… dressed up as Ironman…
…acting in a funny sunglasses commercial…
…or at a dancing class
[/nextpage]
[nextpage title=" "]
Why the praise and respect
All jokes aside, Izzo has always been brilliant at getting his teams to be their best when it mattered, often guiding them over their limits. They call him Mr March for a reason, and Michigan State losing in the first round in 2016 was so unexpected it busted 99% of the bracket around the world.
If you really want to understand what is so special about Tom Izzo, just have a look at this chart ranking the coaches that are better at getting their teams to outperform expectations. The ranking considers the winning chance of any tournament seed and then factors in what happened in the coach's career. Michigan State won 45% of all its tournament games, while this ranking sets their expected win rate at about 30%l. Izzo's delta between expectations and results is higher than any other coach in history.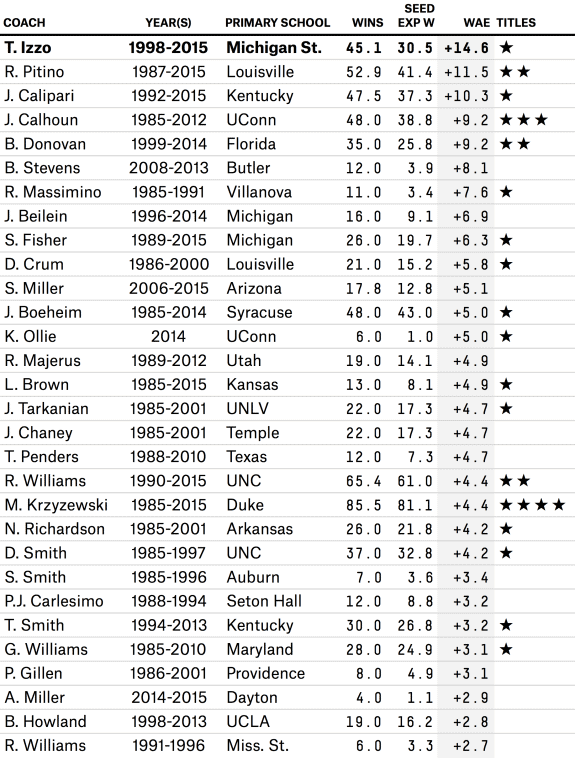 [/nextpage]
[nextpage title=" "]
Love for football
Football was part of coach Izzo's life, and he truly loves the game. He grew up in Iron Mountain together with Steve Mariucci, the great coach of the San Francisco 49ers, from 1997 to 2002, of the Detroit Lions, from 2003 to 2005, and now a TV analyst. Mark Dantonio is also a great friend of his at Michigan State. No other university can boast a coaching duo that got even close to achieve what Izzo and Dantonio did. Izzo is known to coach with a "football attitude", sometimes even requiring his players to wear football uniforms during practice. His motto is "Players Play – Tough Players Win". And of course, his players crash the boards really hard.
[/nextpage]
[nextpage title=" "]
Random oddities
Izzo's career is criss-crossed by unusual stories – not all of them confirmed. For example, he promised he wouldgo bald if his team won the Big Ten in 2009. Did he?
He went to Kuwait in 2005 and 2006, together with other coaches, and coached a military team in a marines tournament. His team won the tournament in 2005, of course.
He ran a few marathons in his life, with disappointing results.
He prefers romantic comedies to dramas because the latter make him sad.
Oh and he hates social media, Twitter most of all. "I compare it to getting drunk — and I don't drink. But it's like getting drunk." Why? Because it makes for an unstable mood. One moment you are happy, the next you are down because of something you read or someone wrote about you.
This is the video of one of his first interviews:
[/nextpage]
[nextpage title=" "]
By the numbers
Last but certainly not the least, a quick recap of his Hall of Fame career.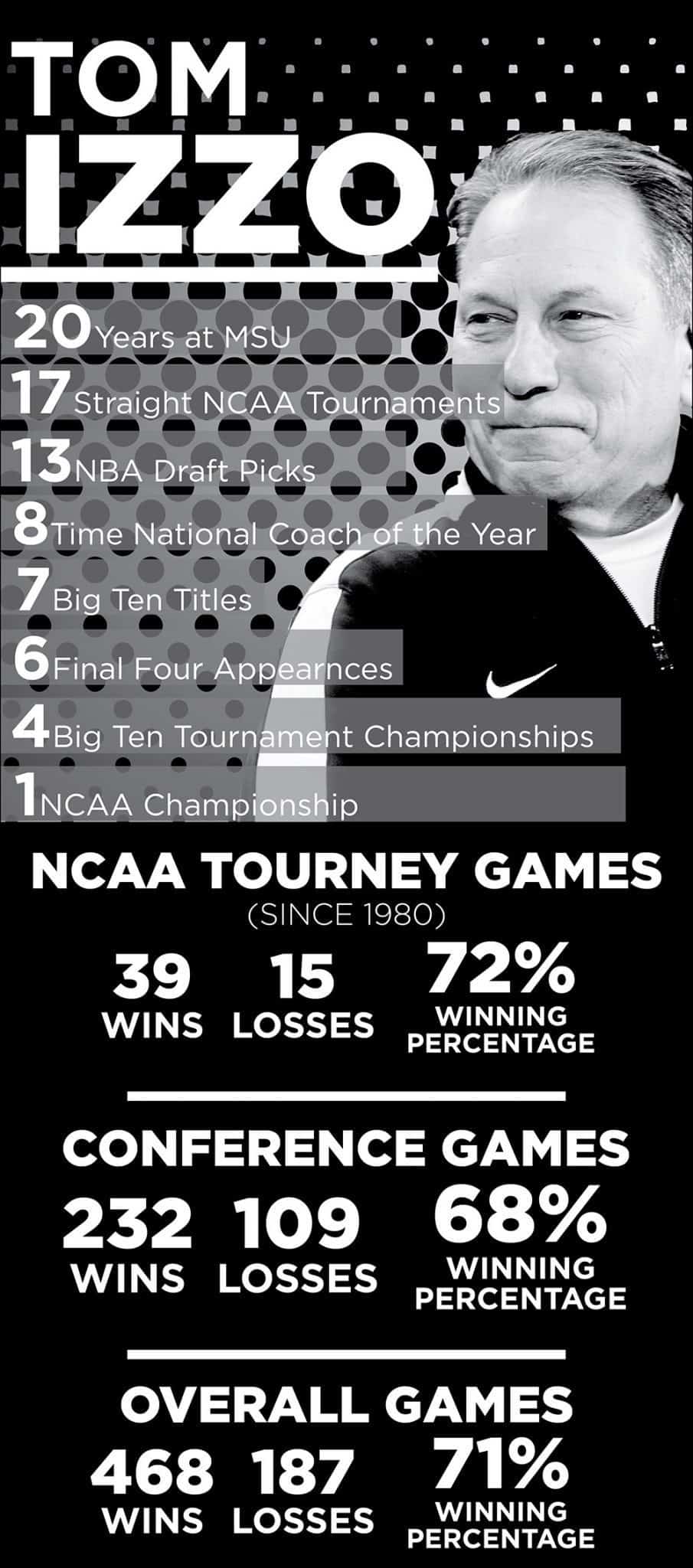 [/nextpage]