[nextpage title=" "]
Two players from the Stella Azzura Academy, the youngest of the De Nicolao brothers and a promising wing from the Virtus Bologna youth sector. These the four Italian freshmen who decided to cross the ocean to study and play basketball in the USA. It has been a popular choice among European youngsters in the last few years, and some programmes are renowned for their international scouting, including Gonzaga, George Washington and St John's. We already covered the biggest names among US-born prospects, now it's time to talk about the four Italians and the four best international recruits of the year.
Scott Ulaneo (Ita) – Seattle Redhawks
Ulaneo will join a team that will include 7-2, UK native Aaron Menzies, Canadian guards Manroop Clair and Jadon Cohee and Slovenian Matej Cavas, a guard as well. The Italian will have no trouble adjusting to the language, since he attended international schools in Rome and will fit right in the international mold of the team. Ulaneo and Mattia Da Campo will be the third and fourth player out of the Stella Azzura Academy to join the NCAA, following in the steps of Amar Alibegovic, teammate of Federico Mussini at St John's, and of Kristinn Pallson, who chose Marist University. Ulaneo started the 2015-16 season resolved to make this move possible. His performances at the Adidas Next Generation Tournament, held in Rome last December, where his team lost to Mega Leks in the title game, gained him the attention of plenty of USA scouts. He is a wing, and he should be back to playing his position next season, but at 6-8 he often played center for Stella Azzurra.
He is active on the offensive board and, not surprisingly, he makes most of his scoring from second chance points, but he is also comfortable driving to the basket. Coach Cameron Dollar and his staff will have to work on his jump shot and develop a reliable post game. On defence, he showed the potential to switch when covering pick-and-rolls without getting killed on the perimeter. His length will also help him on that side of the ball, especially if he can be a facotr in the passing lanes. He has a good motor, runs the floor very well and he will play for a very young team. Dollar knows this might be his last chance on the Redhawks bench: out of his 8-year tenure, he finished with a positive records only twice. He will have to rely on his freshmen to make it work.
[/nextpage]
[nextpage title=""]
Mattia Da Campo (Italia) – Seattle Redhawks
Ulaneo and Da Campo were teammates at Stella Azzurra, and they will be again in Seattle, but their paths to get here couldn't be more different. Da Campo was not planning to move to the US early in the 2015-16 season. Recruiters began to show some interest when his game and shooting percentages improved while playing in the Italian Serie B, especially after his impressive 32-point game against Scauri, where he showed his skills as a spot-up shooter and the potential to be a volume scorer who can draw fouls and live at the free-throw line. Everything stayed quiet up until May, days before the championship series, when he finally committed to the Redhawks.
As opposed to Ulaneo, who went back and forth between the senior and junior team, Da Campo spent the whole season in the Serie B, with good results, but he will have to improve and become consistent with his long range game in order to crack the rotation. His shot selection greatly improved throughout the season. He was prone to make  questionable choices and launch awful shots, but as the season went on he found his rhythm and better reads. Given the logjam at the guard spot, his time on the court will be limited, but Coach Dollar might experiment with line-ups early on, in search of a reliable rotation.
[/nextpage]
[nextpage title=""]
 Roberto Vercellino (Italia) – Northern Colorado Bears
From Bologna to Colorado. Northern Colorado, to be accurate. The 19-year-old 6-5 small forward grew up in the Virtus Bologna youth sector and will spend the season playing in the Big Sky Conference. It is Jeff Linder's first experience as head coach, but he is considered a creative, offensive-minded coach and a great recruiter. He was assistant to Randy Rahe at Weber, and played an important role in recruiting Damian Lillard.
His first choice for his new team was Vercellino, who might become a building block for Northern Colorado in the future, but will struggle to find playing time in his first year with such an experienced roster. Coach Linder recently praised the Italian for his offensive game, both on and off the ball. Vercellino is the third international freshmen signed by Northern Colorado this season, together with Kai Edwards, a power forward from Netherlands, and Kyle Carey, a guard from UK.
[/nextpage]
[nextpage title=""]
 Giovanni De Nicolao (Italia) – UTSA Roadrunners
The youngest of the De Nicolao brothers is moving to Texas. While Andrea and Francesco are running the show in Reggio Emilia and Imola respectively, Giovanni will play for San Antonio, following an up-and-down season with Novipiù Casale. In his first year playing against professionals in the second league in Italy, the 6-feet PG started the season playing over 10 minutes a game before falling out of coach Ramondino's rotation and collecting a few DNPs in the second half of the year. UTSA is a new chance, and a dream coming true for him, as he said after committing.
He was recruited by Steve Henson, the Roadrunners new head coach and former assistant to Lon Kruger at Oklahoma. Back with the Sooners, he was responsible for the development of guards and instrumental to the team efficiency and consistency in outside shooting. Henson's body of work with guards is likely to be what convinced De Nicolao to join UTSA. He had to deal with poor shooting percentages throughout his career and shaped his game to be more of a floor general. Yet, despite being capable of setting up his teammates, he knows his shooting has to be honest enough not to hurt his team. Working with coach Henson will certainly help.
[/nextpage]
[nextpage title=""]
Lauri Markkanen (Finlandia) – Arizona Wildcats
Sean Miller was mentored by Thad Matta, and the strong defensive identity that regularly makes his teams one of the best defences in the nation is a proof of it. On the other hand, their offensive game is not as effective and they often have to rely on great individual talents, which makes Markannen, one of the best Finnish prospects in recent years, a perfect fit. Similar to Dragan Bender, the number four pick for the Phoenix Suns last June, he is a mobile frontcourt player who can play both power forward and center and is effective close to the basket and from distance on both sides of the floor thanks to good shooting mechanics and incredibly fluid movements for a 7 footer. His ball handling is above average for his height, reminiscent of a wing rather than an interior player, and he can attack close-outs effectively. He has great basketball IQ, and is a willing passer ready to give up a good shot if a teammate has a better one available, but he can be unselfish to a fault.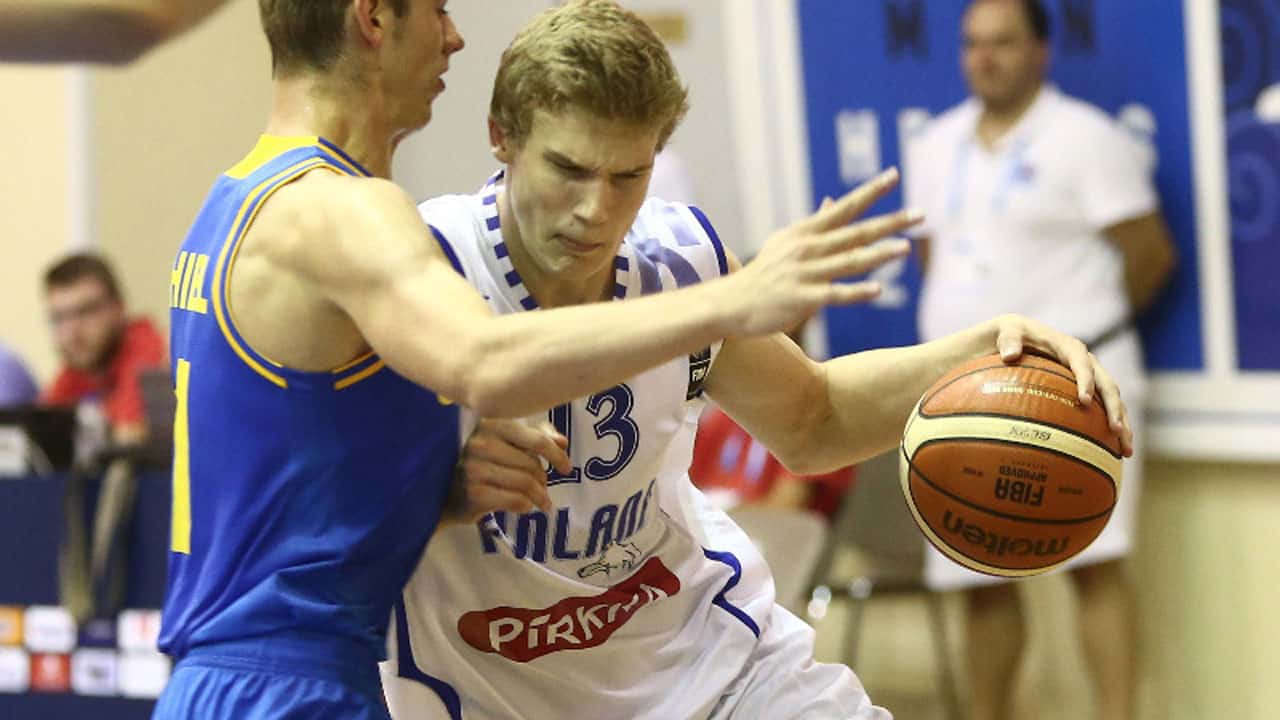 Lauri Markkanen
Coach Miller will make great use of his defensive skills: he is mobile, has the lateral agility to switch pick-and-rolls and stay in front of perimeter players and has great timing helping from the weak side. After a defensive rebound, he can initiate the offence with accurate outlet passes, generating quick points for his team. The issue here is that he is not a good rebounder. He grabbed 8 RPG, adjusted per 40 minutes, in the Finnish second league. It is easy to assume he will see a different level of competition in the next stage of his career. He has no post game of sorts, which could be a weapon to rely upon to bail himself out of certain situation. However, both his rebounding and post game will improve once his thin frame bulks up.
[/nextpage]
[nextpage title=""]
 Killian Tillie (Francia) – Gonzaga Bulldogs
Gonzaga is not just famous for its international recruiting, it was the first programme to open up its doors to internationals. Over 20 players from all over the world played for Mark Few in his tenure as head coach. And of course, the recruiting class of 2016 sees three new such freshmen: Killian Tillie, Danish center Jacob Larsen and Japanese tweener Rui Hacimura. The best prospect is Tillie, who is likely to follow the steps of Domantas Sabonis under coach Few guidance. A 6-8 power forward, long and athletic, he was a member of the Insep, the institution that formed most French players, including Tony Parker and Boris Diaw.
He runs the floor very well and is effective on the boards, relying on his verticality and timing. He is not afraid of physical plays but his body is not ready to sustain the physicality and he suffered injuries because of his playing style. He will have to improve his body and develop some kind of post game to be effective. His jumper is reliable, although his mechanics could be improved and the range extended. He is the kind of player that will live on broken plays and can play off the ball on offence. His defensive potential is incredible, but he does not play up to it yet, and he will have to work on his stance. Despite all of this, he is a very good player, as you can see in this video:
[/nextpage]
[nextpage title=""]
 Udoka Azuibuike (Nigeria) – Kansas Jayhawks
Coach Bill Self is used to recruiting international players with great upside and a lot of work to reach their potential. It was the case for Joel Embiid, who showed daily improvement in his lone season at Lawrence. The last two seasons the focus was on Sviatoslav Mykhaiulik, who started working with coach Self and his staff when he was 16 years old and will be a future building block of Kansas basketball. The last name to follow this path is the Nigerian Azubuike, a 6-9, 18 years old center with a 7-5 wingspan and weight issues.
He has a solid right-handed half hook, his go-to move, and can score off of put-backs. He does not have a great IQ, he makes the wrong choices, can't read passing lanes and has limited moves under the rim. On the defensive side, he is prone to losing focus: on those occasions he gets into the right spot and follows the driving guard he might end up with a block, but most of the time he is out of position. Still, there are only a few universities where an African big man should move to if he is really committed, and Kansas is one of them. He made the right choice.
[/nextpage]
[nextpage title=""]
Jon Axel Gudmundsson (Islanda) – Davidson Wildcats
There will be an Icelandic guard playing in Bob McKillop motion offence next year at Davidson. Gudmundsson has a small advantage over other freshmen because he has been an important piece for Grindavik, the team where he grew up, going from 19 minutes and 6 points per game to 33 and 16. At 6-4, he is a versatile player who can score and pass and a good rebounder for his position.
He will have to bulk up, his body is certainly good enough to absorb contacts in the Icelandic league but the NCAA will be tougher. He will also have to improve on his three-point shooting and shot selection. Despite these areas of concern, he is a scorer and can produce points in plenty of ways, including 1-on-1 situations, which might be useful to bail the team out of broken plays.
[/nextpage]