Eric Mika walked quite an unusual path to get to Pesaro and the Italian basketball league. He spent his two-year Mormon Mission in Rome, went back to BYU to play an incredible 2016-17 season and made the Miami Heat Summer League roster before choosing to come back to Italy. He is a great person with a story that goes back and forth between basketball and religion and with a special mission he set himself on this season.
At first sight, Eric Mika looks a lot like Ivan Drago, and it is easy to imagine people asking him to mimic the iconic character from the Rocky movies, as he told the Salt Lake Tribune when he returned to Utah. Today, however, we have no time to fool around. We are here to tell the amazing story of a very large (6-10, 230 lbs) human being.
Mika is an unusual athlete, at least by the Ncaa standard. The NbaDraft website profiled him as a "savy and hard-working guy" with strong religious values, great world experience and a marriage. That's before age 22. He left basketball in 2014 to undertake his Mormon Mission with the Church of Jesus Christ of Latter Day Saints (LDS), an experience that changed him and helped him in his last season at Brigham Young University.
"For those who don't know, it's two years of me going out and talk to people about what I believe in, trying to help them creating a connection with God. I think it has been an extremely important experience in my life as it taught me what was more important and what true happiness is. [I learned that happiness] is when you can help other people, getting to know other people and learning from any other person you meet. It was an amazing experience and something I will cherish forever."
Mika was incredible in his final season at BYU: he averaged 20.3 points 9.2 rebounds, 1.9 blocks per game and was voted All West-Coast Conference First Team. We asked him how his experience in Rome helped him playing such great basketball.
"As far as basketball, sure it didn't help me physically (he laughs touching his belly) as we had only half an hour to work every morning…and you know, you don't get much done in half an hour especially when it's 6.30 in the morning …  and because of the Italian food I gained some weight too: I ate pasta every day. But when I got back home I got back in shape and everything was fine. Indeed, it helped me to understand which values were more important: my goal was not forcing anyone to change their believes but to explain them why I felt blessed and happy."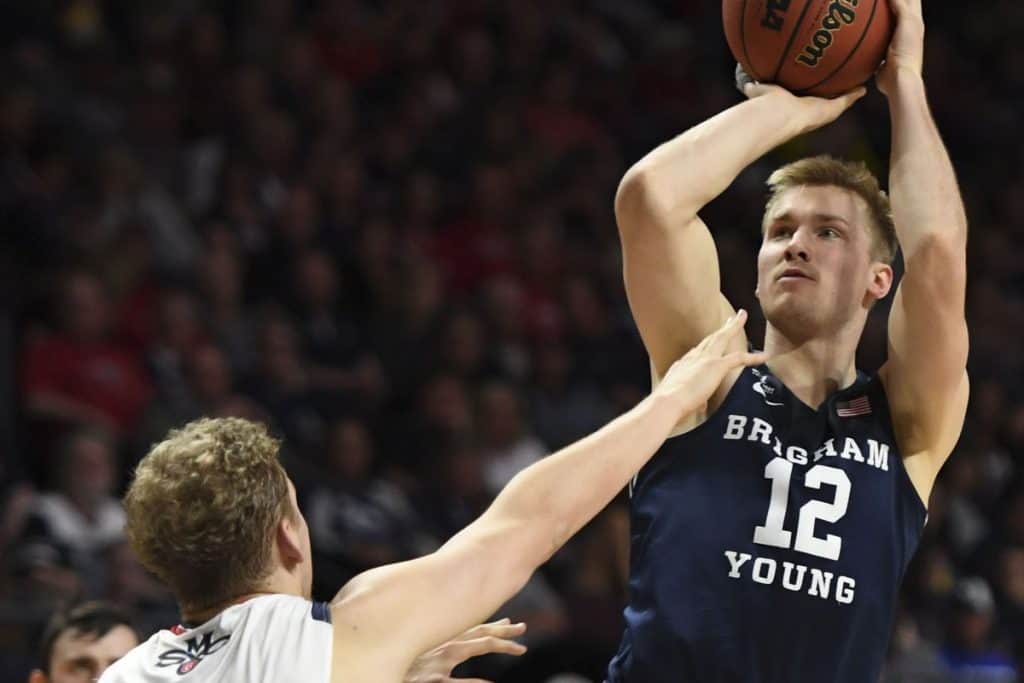 But it was more than values that got him back into basketball form:
"It was a matter of hard work. I got back home in the States in May and a lot of credit go to the coaches of BYU that pushed me to the right work to get back in shape. I could also count on my amazing teammates who, despite many ups and downs, made sure we got a few great wins along the way."
The 79-71 win over Gonzaga must be the most memorable of them, the first against the top ranked team. That night, the big man from Alpine (Utah) scored 29 points and ruined the Zags' Senior Night in delivering their first loss of the season.
"It was indeed the best night of the year. We had many ups and down during the season, but that evening we we able to stick together and our biggest challenge was to be together as a group and having such a great group of teammates was something special It is indeed my best memory of the college season and my favorite match."
After that game and the 89-81 win over Loyola Marymount in the first round of the WCC tournament, many thought BYU had a good chance to sneak into the Big Dance. But… "After that great result and the victory against Loyola, we all believed we were ready for the NCAA", he interjects, "but then we lost against Saint Mary's: at that point we already knew that we couldn't make it but we wanted to prolong the season as mush as we could". But the season ended with a loss to UT-Arlington in the first round of the NIT.
Despite a forgettable finale, Eric was invited to the annual Nba Draft Combine in Chicago, a major event in the draft process for most teams, where the best college players can showcase their skills. But it was not enough, and Mika went undrafted. He still caught the attention of the Miami Heat, and he was added to the team's Summer League roster, together with Zak Irvin, who was very close to being his teammates in Pesaro.
"Sure I was excited because I knew Miami for helping guys in my position – that is, players like me that were undrafted – and training them to get good contracts and help them in the transition; they are good in seeing things they can work on and make guys better purely on the fact of how hard they wanna train. I think that I was the Miami Heat kind of guys: they knew how hard I train and I think that's why they called me. I thought it was a great opportunity. I was very excited and eager to go through the whole process. I still had two years of eligibility since I had spent two years in my Mormon mission, but I knew that I wanted to start my professional career.  I did not want to wait and Europe/overseas seemed a great opportunity to me. I had already lived in Italy for two years and I knew the culture and the language, so it seemed to me the better solution: a blessing."
A minor injury forced him to miss a couple of preseason games and his first official game, a home loss against Brescia, was not one to remember, but Mika will be one of the key players for Vuelle Pesaro this season. What's next?
"As for the NBA,  it is something that is in my mind, but now I am just focused on making this season as great as possible. I think that this year we gonna have a great tournament. I like the team and the coaches, everything is going well and as we are so young and fresh I think we have such a great passion and we're rooting for the game, we have the chance to turn the odds in our favor. Thanks to my two years with the Mission I had the chance to make an incredible experience and to meet incredible people. Sure, there are other players that have incredible experiences behind them but I am at a good point too. I believe that this is a strength that I have. I am sure this can help my teammates and my team, also because I speak Italian and I can help unite this team instead of remaining a group of individuals that came from different cultures."