He left Italy because he could not link sports and studies the way he wanted to. He is now part of Virginia University and he will play in the toughest Ncaa conference, the ACC, despite a serious knee injury. He earned the nickname "Human Pogo Stick" because of his athleticism and the exciting plays he makes on both sides of the floor. He goes by the name "Frankie" but Francesco Badocchi, a 6-7 lefty wing from Milan, still has Italy in his heart and would love to play for the Italian national team. We had the chance to meet him and get to know him better, and he told us about his life in one of the oldest and most renowned university in USA.
Your father is Italian, your mother is American, and you've back and forth between the two countries since you were a child. You then decided to find your path in the States. How did you come to this decision? Did your parents support or oppose it?
My parents were very supportive from the early on. My mother might have wanted for me to wait one more year – I was in my third year in high school in Italy – but she still agreed. Besides, my two elder sisters, Camilla and Arianna, made the same choice when they had to start their last year in high school. I was the last one to make that move. It was something I both wanted and was forced to do: unfortunately, it is not easy to be both a student and an athlete in Italy and I was not happy with my situation in there. Eventually, I moved to Kansas. It was the best for me as a student and an athlete.
What was the hardest part of moving to a new country at such a young age?
I used to spend my summers in Mission, Kansas, with my relatives. I spent two years of high school at Bishop Miege with my cousin, and that helped me because I was in a new country and with no friends. The beginning was not easy – not because of the language, I could speak English well – the whole system and structure was different, both at school and on the court. High school basketball in USA is very different from Italy, it's faster, more physical… I had to change everything about my game. At school I had to take every class in English, and I was not used to it. Once I got my rhythm, though, both on and off the court, everything went right.
I know your aunts and uncles helped you in your adjustment.
Their presence was crucial early on, it was on them to drive me to practice and to visit schools. I also trained with a private coach who helped me change my approach to the game to make it closer to the American style.
Your first year at Bishop Miege, in 2015-16, the team reached the championship game but you had to miss it because of an injury. What memories do you have of that year?
Yeah, I had some bad luck with injuries. This year, I had to undergo surgery on my right knee again. Apparently doctors did not do a good enough job the first time. It was a problem added to the shift from high school to college. That's not an easy jump, especially when an ambitious program like Virginia University is involved. Doctors said they are absolutely certain everything is ok now. Speaking of that game, missing it was tough. I had been playing well the whole year and I really wanted to be in it. Watching it from the stands was not easy. I was fortunate enough to have the chance to play it the following year and win it.
Did that scare you? Were you worried big colleges would have left you out?
I missed the summer tournaments that are so important to get noticed by big programs because of that injury. Those who followed me knew that I had a great season, despite the issues with my knee. I missed four months because of knee surgery, but colleges did notice me anyway.
You came back stronger after the injury and carried that Bishop Meige team to the title by averaging 13.9 points, 5.9 rebounds and 2.7 blocks. Did something change after the injury? What do you remember of your senior year and of the final?
Yes, I wanted to prove my potential, I wanted to show that I could play for High Major programs. I gave everything as a senior and scholarship offers started coming during the year. My best memory is pre-game emotions, a mix of excitement for the chance to play the game I had missed the year before, determination to do my best and and the tension that comes with plenty of coaches who came to see me play. It was a great opportunity to show my potential and I sure did not want to miss it.
And you went on to score 21 points in that game. Plenty of college programs took an interest in you after that win, including Virginia and Illinois. Why did you choose the Cavaliers? What was the deciding factor?
It was tough, I kept going back and forth between the two until the very last day. I ended up choosing Virginia because, beside being a storied university with a great basketball program, during the interview process they were much more interested in me as a person than as a basketball player. We talked little about basketball and a lot more about me, my ambitions, my personal history and the status of my knee. As a plus, coach Bennett told me I would have been a key piece of the team and that I would have had an important role. That's what I was looking for. Last but certainly not the least, the business school I wanted to enroll into here at UVA is one of the best in the country.
You just named coach Tony Bennett, who is very well known for his "pack line defense" and his "motion offense". What kind of workouts are you going through to refine your game?
It was hard, I had to learn everything from scratch, learn to walk and then to run. But I love defense, it was easy to fit in the defensive scheme, but I had to get a better understanding of the details – how to look at my teammates and opponents, for example – that make UVA defense one of the best (top of the Ncaa once again this year, allowing only 52.7 points per game). The college game is more physical than in high school or in Italy, facing it was a challenge early on. Coach Bennett's practice are not long, but they are intense. We work a lot on defense, on sliding with the ball handler, box-outs, and 3 vs 3 situations and things of that nature.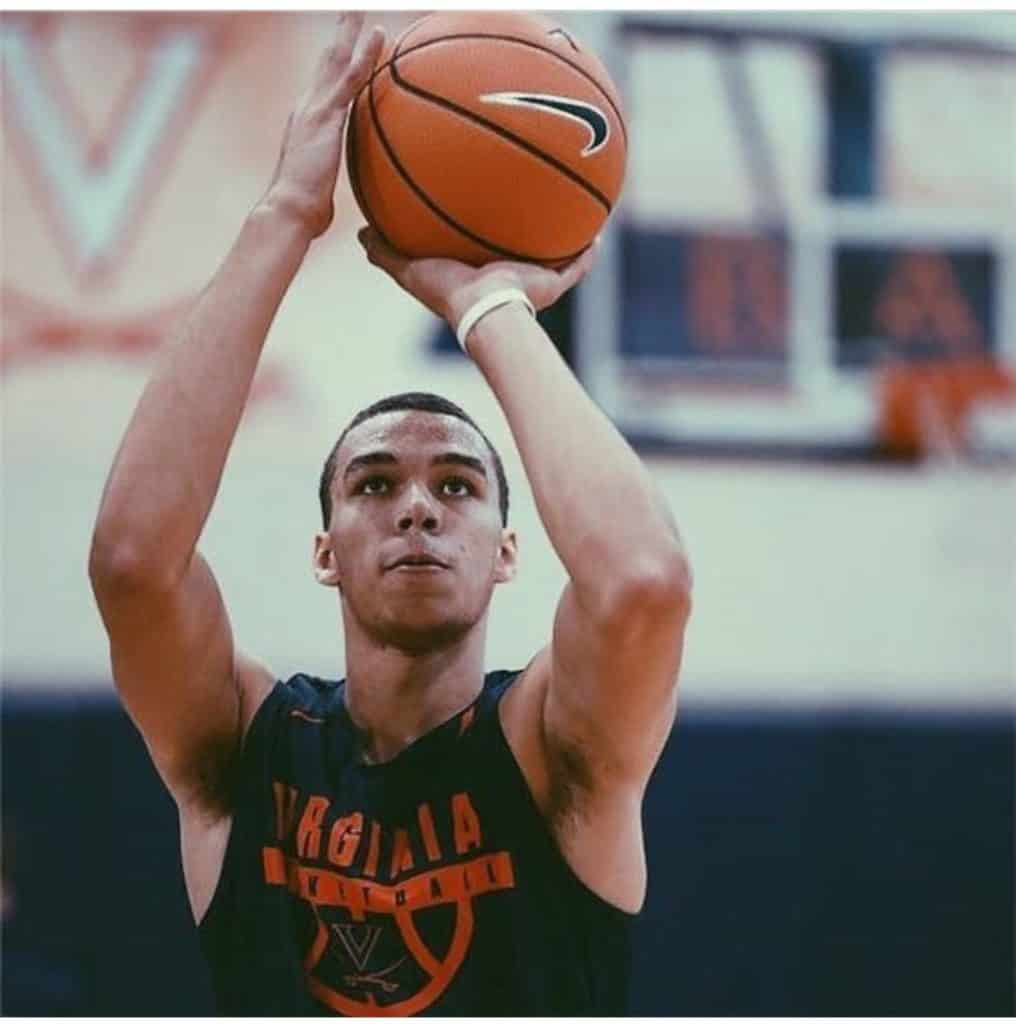 You study in one of the oldest and most important American universities, could you tell us about the Grounds, the Unesco-protected university campus and about your life in Charlottesville?
It is a storied campus, with some incredible architecture. The first time I set foot in there, it was quite impressive. It still amazes me, I surprise myself staring at the buildings when I'm walking to class. My favorite area is the Lawn (the green area facing the buildings, as it was drawn by Thomas Jefferson, the third president of the United States). You can sort of breathe in the history of it all, it makes the UVA experience unique.
As you know very well, in a video shot in Kansas they gave you the nickname "The Human Pogo Stick". Did it follow you at Virginia? Do you think it is fitting?
Yes! (He laughs). Back in high school I loved to fly above opponents' heads! They started with that "pogo stick" name because of my athleticism. Some of the students at Bishop caught those highlights on camera and made a video and came up with the nickname. It followed me to Virginia… but honestly, some of the players here are much bigger and taller and I can't jump over their heads! (He laughs again). I enjoy being recognised for that, but I am working on other parts of my game to be a much more complete player.
Coach Bennett decided to redshirts you for your freshman year, as he often does with freshmen. How are you planning to use this year? What do you want to work on and what are you working on?
I want to get better, that's why I work out more than others. I get to the gym one hour before practice to do sliding drills and work alone on my shot and fundamentals. The difference between college and high school is huge and I want to put in the work to be at my best and play at the highest possible level next season.
I came here to grow up as a player, but Italy is always in my heart. I will be back in Italy in May, and if I had to get the call from the national team, I would be truly honored to answer that call and wear that jersey. Virginia university already gave me the approval. But we'll see what happens in summer. If they had to call, I would not hesitate.
A friend of your uncle did predict you would have played in Division I one day… and now you are here. What did you tell him?
Yes, this man recognised my skills very early and he foretold my uncle I would have made it to a Division I college. And he was right! I called him as soon as I signed with Virginia to thank him for his words and the trust he put in me.