Nowadays, International players have an established presence in college hoops. In the upcoming season, there will be 663 foreign-born scholarship players from 82 different countries featured among 353 Division I schools. Some of them are going to play a key role on their teams and there's much talent that it is possible to find among the freshmen.
Even if basketball is getting more and more global, International newcomers are often little known by American fans, especially when they come straight from a foreign country. This is the reason why we thought we'd select and introduce 18 talented freshmen who didn't appear in major exposure events (except for the FIBA tournaments) and might make some noise this year.
6 guards, 6 wings and 6 big men, all split into two "teams": High-Majors vs Mid-Majors – in this regard, we decided to include the Gonzaga players in the first group, as we can't consider the Zags as a typical Mid, but more of an High-Major program that just happens to play in a Mid-Major conference.
In our articles, you will find nothing but players that we have seen several times – sometimes, live – focusing thoroughly on their skills, their weaknesses and how they fit into their respective teams.
It wasn't easy to round the number to just 18 players: some good ones have been cut off, but we'll extend this work during the season by writing periodically about other up-and-coming International freshmen.
But let's cut to the chase now and start introducing our 6 guards!
High-Major: Joël Ayayi, Franco Miller, Ignas Sargiūnas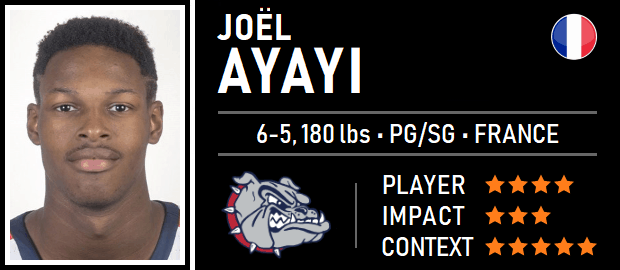 Killian Tillie is not the only Frenchman you should look out for on Gonzaga's roster this season: after redshirting during his freshman year, Joël Ayayi is finally ready to make his own contribution at The Kennel. A product of the INSEP, an academy that has drawn some of the best French prospects in the last 20 years (Tillie, Hoard, Sarr and Pons all spent time there), the 6-5 combo guard arrived in Spokane last season when he was only 17 and needed to spend much time in the gym. In the meantime, he has improved his physicality pretty noticeably by gaining 11 lbs and now he is starting to have a proper college body. This summer, Ayayi has shown once again to be one of the very best European prospects of his generation by leading France to the bronze medal at the FIBA U18 European Championship, averaging 15.7 points (50.0 FG%) and 2.3 assists per game and gaining a spot in the All-Tournament Team.
Player Traits
Good athleticism and physical tools for a guard who aims at a high-level professional career, standing at 6-5 and with a 6-7 wingspan: long and shifty.
Crafty, poised guard who can play both on and off the ball. His high basketball IQ and good court vision allow him to make good decisions in most situations. Can handle the PnR, showing a good off-the-dribble jumper and some useful solutions for his teammates.
Ever-improving shooter with range and smooth mechanics. Poor finisher at the rim (which also leads him to gain very few FTs), but has a very developed floater that he loves to use frequently in order to catch his opponents off guard.
Mentally mature and extremely reliable in clutch time. He needs to further improve his consistency throughout the game though, and also his efficiency, which can drop significantly when well guarded or forced into iso plays, struggling to blow by his opponent.
Reliable 1-on-1 defender. Off-the-ball, his effort and long arms often lead to steals but sometimes he is late on close-outs. Very active and skilled rebounder on both sides of the floor.
Fit and Expectations
Gonzaga has enough talent, experience and depth to be a #1 in the country, which makes the internal competition much harder than most teams. The French youngster is expected to have limited minutes: Josh Perkins, Zach Norvell Jr. and Geno Crandall all seem well ahead of him in the backcourt rotation. Also, Rui Hachimura may end up spending much of his playing time at the 3 position, which would shrink further the minutes for the Zags guards. Nevertheless, Ayayi has enough versatility to carve out some minutes: potentially, he could be at ease by playing along with any other guard in his team and, maybe, even be an unexpected resource in tight games, given his much proven cold-blooded attitude.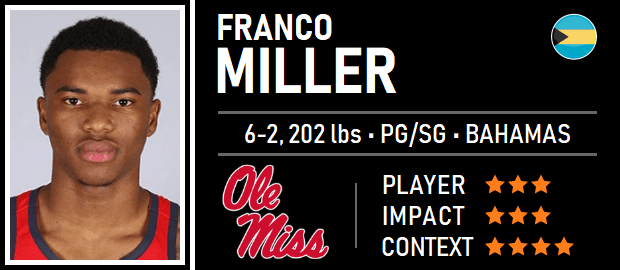 They don't call you Bahamian Bucket Getter for anything. For Franco Miller, it's been always about how to make the most of his opportunities, as he did last season suiting up for Crestwood Prep in the Canadian National Prep Association. Still a young competition entering only its third year, the NPA highlights the rise of Canadian Youth Hoops: a league gathering Prep talent from north of the border, but also bringing quality imports such as him. Is the 6-2 combo the next big thing out of Bahamas? The stakes are high for Miller, who held several High-Major offers and opted for Kermit Davis' project at Ole Miss, but it's not easy to follow Buddy Hield or DeAndre Ayton's footsteps. However, Franco is his own man, raw but fearless, and builds his game on imposing strength and efficient jumpshot. He's not worried about carrying the load: 25.8 points, 6.0 rebounds and 5.2 assists alongside 2019 prospects Jacobih Neath and Luis Pacheco, or facing guards like SCU commit A.J. Lawson and Lual Akok. His NPA 1st-Team All-Stars and Signature All-Canadian Showcase selections will serve him well during SEC play.
Player Traits
Smooth gunner in the long range, especially off the bounce. Nice elevation and easy trigger, with fluid motion and clean stroke. Extremely confident as a high volume shooter, no matter distance.
Broad shoulders, long arms, muscular upper body and physical presence. He is not very explosive but strong in the drive, able to finish off the glass with either hand, or draw contact going to the FT-line often. 15-feet stroke needs more consistency.
Athletic and versatile combo able to play off the ball looking for his own shot. Good vision in transition and solid handle. Needs to work on controlling the tempo and speed of the game, and on PnR execution to make the most of his dribble and passing ability.
Energetic and talkative; usually more engaged in his offensive role as he can score in bunches, but notable D potential based on his frame and wingspan.
Fit and Expectations
There is little question Franco Miller will fit nicely in a SEC conference that is more athletic and stronger than ever. Confident shooter and strong vocal leader, he could well be a second unit guy bringing scoring punch. Nonetheless, much of his freshman playing time could also depend on how he embraces D, especially on the ball and working on his lateral movement and speed. Meanwhile, channeling his verbal energy on the team's best interest will certainly give him a boost. Rebels' backcourt will miss Deandre Burnett this season, but senior Terence Davis is eager to lead the line after flirting with the Draft last post-season, with Breein Tyree and Devontae Shuler ready to help out. Minutes will be there for the young Bahamian, but defensive commitment and the will to create for others could be crucial for him going places over the season.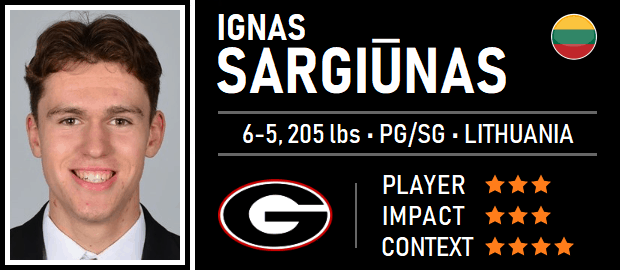 One of the most interesting young guards in Europe, Ignas Sargiūnas' name has been around for a while in the FIBA Youth competitions. In addition, he has competed regularly in the ANGT and the NKL (Lithuanian 2nd league) with the youth teams of club powerhouse Žalgiris Kaunas, together with other local top prospects of his generation such as Gytis Masiulis, Matas Jogela or Rokas Jokubaitis. Over the years, Ignas has shown his versatility, acting as a playmaker but with the offensive traits and production of a SG, all combined with vocal leadership and decent defense. Ambitious, skilled, and with a team-first mentality already in place, he was also invited to the 2017 Basketball Without Borders Global Camp, where he had a fairly good show and learning experience. Sargiūnas was convinced then to pursue his American Dream, and will do so this season as a member of Tom Crean's first recruiting class for the Georgia Bulldogs.
Player Traits
Good frame for a SG, has nice body control but lacks strength in the upper body, which inhibits to absorb contact.
Has fair handles and passing skills to move the ball on the perimeter. Has good IQ and vision to find his teammates on cuts when the defense goes for the trap on his drives.
3-point shooting is his main offensive weapon. Has excellent mechanics which makes him a good shooter on set positions, especially from the corners or coming off blind screens. Definitely more of a catch-and-shoot guy than a off-the-dribble shooter.
Good at pushing the ball in transition, can drive with both hands. Off the PnR, if he finds an advantage off the screen, he can either go all the way to the basket or shoot a nice long-two jumper.
Solid defense, but should improve certain aspects: have more lateral quickness when attacked on the left on 1-on-1; try to go over the screen on PnR situations; have a better position off-the-ball.
Fit and Expectations
Ignas Sargiūnas faces the challenge of getting regular minutes in the Bulldogs rotation in a league as competitive as the SEC. The Lithuanian certainly is a highly talented guy and Coach Crean has said to be impressed by his skills and versatility as a combo, which can offer different offensive solutions. However, the list of available guards is long, and he will need some time to adapt to the new pace and environment, besides being the only foreign player on the roster. Presumably the PG position will be filled up by Turtle Jackson, Tyree Crump and Teshaun Hightower, with Jordan Harris switching around the backcourt line. However Crean will also count on both incoming freshman Tye Fagan and Sargiūnas, whose physical development will be crucial to find his own space on the roster.
Mid-Major: Ebrima Dibba, Diego Willis, David Kralj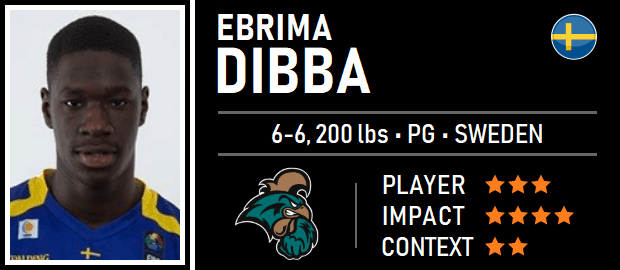 Being a pure athlete who pours energy up and down the court, it's quite hard not to think that Ebrima Dibba will have a solid pro career and become a key role player for the Swedish NT in the future. Not yet a high-tier guard but developing his traits and with an interesting frame, he has shown flashes of high IQ and understanding of the game. Dibba arrived at St. Benedict's Prep in New Jersey two years ago with his friend and more well-known fellow countryman Musa Jeng, and has grown exponentially since with the Gray Bees, playing alongside other quality prospects like Precious Achiuwa or Lester Quiñones. Ebrima showed part of his repertoire in the last FIBA U20, where he was part of an awesome trio of Swedish guards with former Illinois State Elijah Clarence and Davidson commit David Czerapowicz. Next stop in his development: the Sun Belt with Coastal Carolina.
Player Traits
Physically very intriguing and can defend all over the backcourt. Good athlete but sometimes unable to control or change his own speed during the game. Can run the floor really well.
Dribble is below average compared to elite PGs, but he shows good protection of the ball. Fair passer in PnR situations, where he's able to attack free spaces in the driving lanes and punish defensive oversights.
Shooting mechanics are still to be developed, especially in the long range, but has a nice mid-range jumper off the dribble coming off screens. Rarely pulls up in catch-and-shoot situations on the perimeter, much more of a off-the-dribble offensive player. Soft touch on floaters too.
His offensive game is more focused on coming off screens, where he decides between driving, shooting off the dribble or playing a PnR with a big man. Good in isolation plays with his first step, some change of pace and aggressive moves to the rim.
High energy on 1-on-1 defense situations, with flashes of IQ as a stealer, but not so quick to slide and cover the driving lines against more explosive guards.
Fit and Expectations
On the whole, Ebrima Dibba belongs to an exciting brand of playmaker, and his physicality and game IQ could much help him to find his own space in US basketball. Also his to-be-developed technical skillset makes him fun to watch. Chanticleers' Head Coach Cliff Ellis has shown his enthusiasm for working with him, and there are real chances to see Ebrima as a starter during the season, competing within the large Chants' guard list for the PG role with sophomore Trevion Brown and incoming freshman Devante Jones. Not less important, with his size, length and strength, Dibba can help to build and shape up different lineups while filling different roles, showing his versatility all over the backcourt line.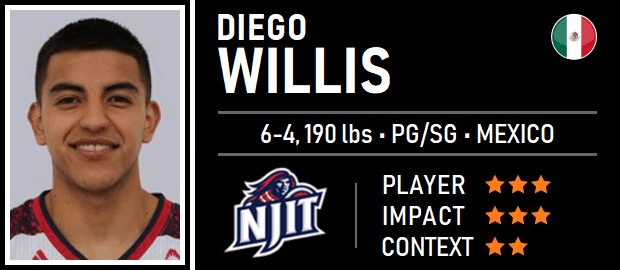 Watching Diego Willis' strong handle and high bounce, it's easy to reckon a pro baller in the making. Just when you are about to ask yourself at what level, he uses a dribble back against full-court press, draws a perfect angle with a pass, or drills a jumper after a screen. He is onto something. This comes from dedication and hard work, but also from the will to prove and improve himself, the same that pushed a 14-yrs-old Willis across the ocean to join one of the most established European academies, the Spanish CBA. Recently there was another huge step forward for Diego when he suited up for Mexico (12 Guerreros) in the 2017 AmeriCup. Since then, he has been a usual face in the senior team, taking part in their historic win against in USA last June. Naturally, Willis' name was around the College Basketball recruiting circles much earlier, mostly linked to the Big Ten and Rutgers, although another New Jersey program was his final college destination: NJIT Highlanders.
Player Traits
Natural and easy handle with either hand, topped with a high IQ and excellent PnR execution. Finds the angle for the pass and the roller, and is equally efficient finishing himself with a shot. Attacks the mismatch in space far less frequently, though.
Impressive mid-long range and pull-up game after gaining separation and space off the set screen; able to make quick shots with his fluid release. Good spot-up shooter as well, especially in the corners, with smooth mechanics plus lots of confidence.
Versatility and size to play both guards spots: nice frame to pack up and long arms to steal or poke the ball. Lead guard potential though lacking elite burst in the drive and some athleticism. Finishing at the rim through contact needs work.
Great passer in transition, sometimes flashy, but mostly efficient and able to win solid advantage with his vision when pushing in open court, which makes up for his lack of overall explosiveness.
Fit and Expectations
High IQ, ability to exploit the PnR, and shooting threat are Diego Willis' trademarks. However, he still needs to work on his speed, athleticism or drive execution to avoid settling too much for deep shoots instead of going to the rim more often. Defensive awareness and foot speed are also important, especially when fighting through screens, reading close outs, or fitting into defensive rotations. His role with the NJIT Highlanders, already with many guards in their roster, will presumably be more off the ball at first, next to Diandre Wilson or Zach Cook, until he adapts to college speed and pace, and learns his way in the system, gaining strength and working on his D instincts and reactions. From there, he can become a better player, and a reliable secondary guard able to switch focus from scoring to consistently running the offense when his team needs it.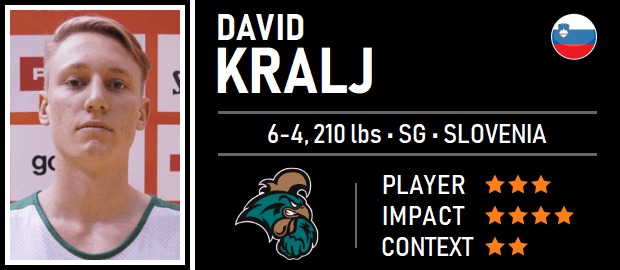 Is there life in the Slovenian Youth Basketball behind Luka Dončić? You could wonder so once the prodigy of Ljubljana won almost everything there was to win in the FIBA senior competitions, and jumped via Draft to the NBA. But following a summer in which both Slovenian Youth NTs, U18 and U20, reached the European Division B finals, names such as Jurij Macura, Aljaž Bratec or Petar Vujačić come to mind, and then of course Coastal Carolina's second European addition in this Class of 2018: David Kralj. Also a Ljubljana native, Kralj is an athletic and powerful lefty guard who comes with a strong reputation as a scorer after reaching 54 points in a single game in the Slovenian 2nd tier with club Skofja Loka. At 6-4, with a rich offensive skillset, competitive approach and natural leadership, expect Kralj to be able to contribute in the Sun Belt from game one.
Player Traits
Average size for a SG, but thick frame and strong legs which can push him to the third guard spot. Can absorb contact in the drive and use his body to gain separation for jumpers.
Good shooter and gunslinger mentality: easy release and fluid motion both in the three and mid-range. Natural athleticism, long first step and quick feet for his frame, which enable him to score in a variety of ways, mostly with his left hand.
Ability to associate with big men on the roll coming off the screen and good vision to read the play in transition and fastbreak.
Terrific rebounder for his position and size, especially crashing the offensive glass. Good leaper and vertical explosion, at times even able to challenge bigger bodies in the air.
Quick hands and good activity and energy over passing lines, which along with his overall quickness makes him valuable in D rotations. More grit on 1-on-1 and on the ball could be helpful.
Fit and Expectations
For all his talents and physical qualities, David Kralj is still too much of a lefty finisher, which means his offense game has room to improve using more his right hand to get the best of his hesitation, spin moves and looks off the dribble. A tighter handle and better body ball-shielding can also cut on unnecessary TOs and bring more confidence when attacking the rim as well as when acting as primary initiator. Chanticleers roster will most likely be built around Zac Cuthbertson presence in the frontcourt, with the backcourt losing senior firepower while Artur Labinowicz transferred to Evansville. Altogether, this looks like the perfect scenario for this year's talented freshman class to step up and fill the offensive gaps alongside veterans Ajay Sanders and Tyrell Gumbs-Frater. David Kralj seems capable of taking over the SG role, making his mark in a conference in which he'll face plenty of tough matchups against talented lead guards such as D'Marcus Simonds, Tokie Brown and Rodrick Sikes