Here we are at the final chapter of our 3-part journey through the 2018 International Class: time to talk about some forwards and centers that may make some noise pretty soon.
High-Major: Samson Froling, Filip Petrušev, Lukas Kišūnas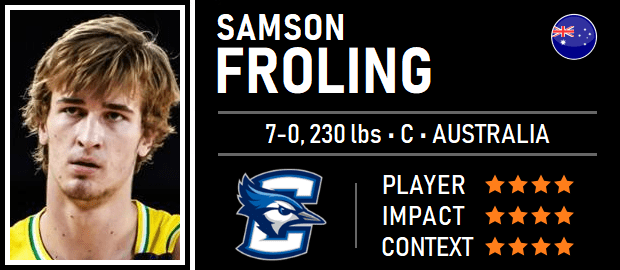 After years of impressive progress balling for his local club Queensland, College Hoops was always going to be the next step for Samson Froling. He follows the path opened by his older sisters (both played at SMU) or his most well-known brother Harry, who has spent the last two school seasons between SMU and Marquette. Harry finally didn't settle as expected and left for good last summer to pursue a professional career in the Australian NBL, where he's playing at a pretty good level at the moment. Precisely his brother's connection made many analysts think Samson would choose the Golden Eagles as his college destination, but in the end he went to Creighton with Greg McDermott, where he will form some awesome Aussie big men combo with former La Lumiere player Jacob Epperson. In terms of quickness and mobility, Samson seems better equipped than Harry to adapt to the USA pace and speed of the game. Queensland has done a terrific job with his ball handling skills and range shooting during the last season, which will indeed help him to become an important player in the Big East, as this year's FIBA tournaments have announced
Player Traits
Lefty with great size and length to play both F/C spots. Notable versatility and growth in his game, from a classic post-guy to a modern forward who can create off the bounce and space the floor. Equally dangerous both rolling or stepping out in the PnR.
Skilled and talented, usually an offensive reference for his teams. Signature go-to-move: driving and testing his matchup from the 3-point line and turning his back to the basket, from where he can use his footwork to get a hook with either hand or a closer lay-up off the glass.
Nice frame to build up and use on both ends. Better defender than he seems, not very quick or athletic, but good time-reaction and steps slides covering space. Also knows how to use his long arms to block driving lanes or to wall up matchups in the post.
Excellent rebounder by size and positioning instincts, with grab & go potential. Good passer from deep after establishing position on the low post, always aware of teammates' cuts after the 2-on-1, or kicking the ball out for an open shooter.
Fit and Expectations
Froling recruiting means arguably a coup for Greg McDermott, engaged in a rebuilding mission after losing backcourt talents like Khyri Thomas or Marcus Foster. The frontcourt line suffered last season with Martin Krampelj ACL injury, which forced Epperson to ditch his redshirt in January, and while the Slovenian forward seems again fit and ready to go, any bodies that can help the big boys and undersized 4ths Cashaw and Ballock are welcome. A player with Samson's fundamentals and international experience might need some time to adjust to the athletic step-up, but he seems certainly ready to contribute and to become an important piece in the Bluejays rotation from game one.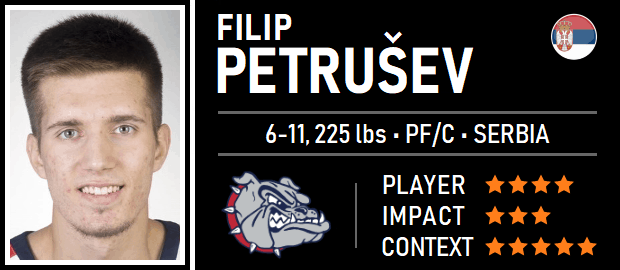 Another great piece to continue the tradition of skilled big men at Gonzaga. The Serbian PF has had a great summer with his Youth NT at the U18 FIBA EC, as he was one of the main factors that led Serbia to the gold medal. As well as his Zags teammate Joël Ayayi, Filip Petrušev was named in the All-Tournament Team after averaging 21.0 points and 8.7 rebounds per game. After a quite troubled personal journey, with many teams changed through the years, Petrušev had a productive year at Montverde Academy, as he started to learn how to deal with a different level of athleticism and expanded his bag of tricks. He seems ready to give a much useful contribution, something that not many true freshmen are able to do at such high level in college hoops.
Player Traits
Modern and versatile big man with high basketball IQ. Good team player with good and rather quick decision-making, which makes him a great fit for a "European style" team such as Gonzaga.
Has recently shown improvements with his low-post skills. Has excellent positioning in the paint, great footwork, soft touch around the basket (mostly with the right hand). Able to recognize and take advantage of favorable mismatches when opposing D switches. However, he tends to struggle in the paint against bigger bodies.
A threat when receiving the ball around the perimeter: can score from distance (well executed 3-pointers), look for a dribble mid-range jumper, or use his passing skills. Some of his passes are risky, but has good hands and timing for high-low passes, or from the elbow finding open teammates behind the arc.
Not very fast but mobile enough to sustain high-paced games.
Overall a pretty solid defender, although his lack of verticality and explosiveness might be a problem against more athletic big men. Improving motor and aggressiveness are helping him to become more competitive on the boards.
Fit and Expectations
With Killian Tillie's injury and Jacob Larsen's decision to leave the team (he's still on scholarship and might come back in the future), there's no doubt that Petrusev will have some real playing time as a backup frontcourt player. Besides, Mark Few said to be very happy of both his summer with the Serbian NT and the way he looked in the early fall workouts. His versatility and skills project him as a better than just 'acceptable' successor of Killian Tillie. While he seems ready to make an impact on the offensive end, much of the spotlight he will gain is going to depend on how defensively sound he will appear, which is crucial for a high-ranked team such as Gonzaga, one that always strives for balance and quality on both ends of the floor.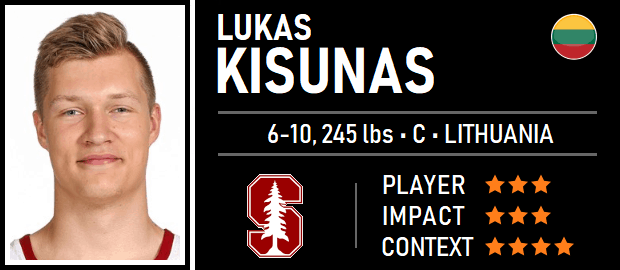 In a basketball world that demands more and more a certain variety of skills, there is still room for old-fashioned types. Lukas Kišūnas is pretty much that kind of player: he doesn't do too many things on the court, but excels in those he does. This didn't hurt his stock in the slightest: the Lithuanian center, after decommitting from UConn, chose Stanford over multiple high-major offers (Arizona, Virginia, Wake Forest, Purdue, Northwestern among others) and emphasized Stanford's high-level education as a fundamental reason of his choice. He has already spent two years in the US and has been one of the main players of Brewster Academy, helping the Bobcats to win the 2017 National Prep Championship and back-to-back NEPSAC Class AAA regular season titles. His last appearance in a European competition goes back to the 2017 FIBA U18, where he contributed to Lithuania's bronze medal averaging 8.9 points and 6.4 rebounds in 17.0 minutes per game.
Player Traits
Physical player whose frame and athleticism improved over the last two years. Definitely a plus as a pick and roll big man: tough screener, rolls to the basket with much decisiveness. Good rebounder, fierce on the glass.
Dangerous low post scorer. Always in a position to catch a pass in the best possible way, protects the ball, has quick feet and makes very strong moves to the basket. Decent touch around the rim with both hands, but could and should improve.
Very tough 1-on-1 defender in the zone: makes his presence felt without fouling, doesn't fall for fakes too easily, has good stance and timing for contesting shots. Has enough mobility to double ball handlers quite effectively on high ball screens.
Smart player: off-the-ball, he can find an open spot for attacking the paint in a heartbeat, but lacks variety on offense. It would be useful to add some range to his game.
Not a bad passer at all for his role, but not always careful with his choices and execution.
Fit and Expectations
The Pac-12 looks the least exciting Power Six conference this year, and sending 5 teams to the Big Dance would be a huge success quite frankly. On paper, Stanford seems to be set for nothing more than another NIT trip. However, this is a very young team worth following in the long term, as it could end up building a very interesting core for the future with the likes of Daejon Davis, Oscar Da Silva and Kezie Okpala. The departure of grad transfer Reid Travis has hurt the Cardinal though, and Coach Jerod Haase will need immediate contributors on the frontcourt if he wants to keep emphasizing interior scoring (Stanford was 2nd in the Pac-12 and 29th in D-I for % of shots at the rim, according to Hoop-Math). Senior Josh Sharma has never played many minutes in his career but should be the frontrunner as the starting center, and Kisunas could definitely carve out some minutes as his back-up over other inexperienced freshmen.
Mid-Major: Guglielmo Caruso, Matthias Tass, Neemias Queta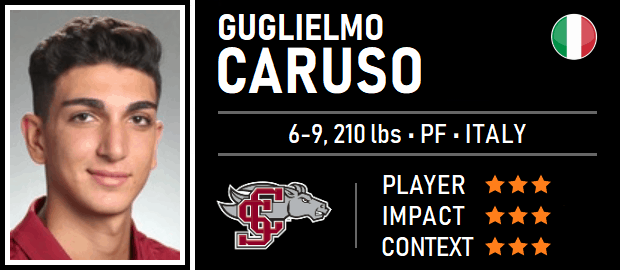 Guglielmo Caruso is arguably the best '99-born player of his country and one of the most intriguing new faces of an ever-expanding Italian group taking over Division I Basketball. He is a PF/C whose development has to lean towards the 4 position, and was a silver medalist at the U19 FIBA World Championship a year ago with spared minutes but an important contribution. His display last season with Napoli in Serie A2 (2nd Italian tier) wasn't the luckiest. He missed the first part of the season because of a shoulder injury, and his contribution in the second couldn't help a very weak roster to avoid the relegation. Despite this, Caruso certainly proved to be one of the best young players in the league, averaging 9.1 points, 5.5 rebounds, 1.5 blocks in 23.2 minutes in just over 17 games.
Player Traits
Physical improvement is a must in his development. Average athlete, way too thin. Struggles against stronger bodies in the low-post. His off-the-ball D could use a bit of polish too. Mobile enough and a reliable on-ball defender around the perimeter. Outstanding timing plus long arms for blocking shots.
Not particularly fast, but has enough balance, mobility and bounce to attack the basket off the dribble. Right handed, but much more at ease with going left in those situations.
A threat on ball screens: can roll to the basket effectively or knock down elbow jumpers off the pick and pop. Shooting mechanics got smoother over the last couple of years but far from being a proper floor spacer.
Still a work-in-progress in the low post, but has a good touch around the rim with both hands and shows flashes more frequently. Good vision and passing skills, especially when feeding teammates on backdoor cuts
Not a great rebounder because of his lack of strength: while he struggles to box out, sometimes can make up by following the trajectory of the ball.
Fit and Expectations
While is obvious than Caruso has still ways to go until becoming a consistent bigman, he may turn out to be one of the best freshmen of this Santa Clara's large recruiting class in which HC Herb Sendek advocates for a positionless brand of basketball. That approach should help him to find a way to contribute, although he can't be the solution to all problems. While Caruso has great shot blocking skills, at the moment he doesn't seem physically ready to provide a proper rim protection for a team that allowed way too many shots near the basket, which were converted with an unenviable 62.6% (269th in D-I according to Hoop-Math). Josip Vrankic and grad transfer Josh Martin will have the spotlight in the frontcourt, but Caruso could end up having substantial minutes especially if Sendek decides to go small frequently, which is a possibility, considering his mobility and the lack of quality at the center position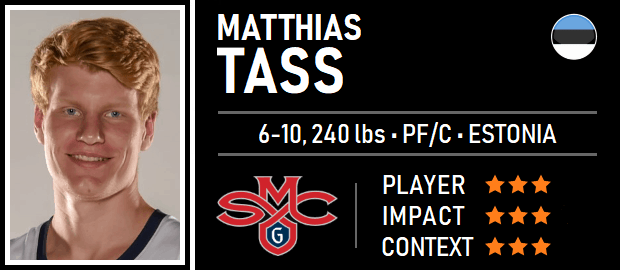 The undeniable growth of some prospects in Estonia – Henri Drell, Joonas Riisma, to mention a couple – has recently drawn attention to the small Baltic republic. The country has produced some quality players lately, although not in the same quantity of its neighbors Lithuania and Latvia. The name of Tallinn-native Matthias Tass has been around European quarters for quite a while, and represents one of the hopes of a nation that is going places in the European basketball landscape. Over the last couple of seasons, the 6-10 center has grown impressively as one of the most versatile, smart and productive big men, both in his national competition and the Baltic Basketball League, where he has gained experience by playing for two different clubs, Kalev/Cramo and TTÜ.
Player Traits
Solid post player with massive frame and weight: moves well along the court for his size, and shows good coordination and control of his body with both feet on the ground. Able to display some great footwork, but lacks explosiveness.
Not much ability to handle, but he has advanced passing skills, especially in post-up trap situations, where he's good at opening the game. His shooting mechanics with soft release makes him a potential mid/long range consistent shooter. Solid rebounded who uses his body well.
Excellent at using the screen to create an advantage for himself, good finisher on PnR with soft touch or an efficient mid-range jumper. Back to the basket, he makes an interesting combination using his body and footwork to create space for a soft hook in the middle of the area. Good IQ.
Very little mobility defending the perimeter. Can absorb contacts in 1-on-1 situations with his back to the basket, but in PnR switches his recovery is slow because of a too deep defensive positioning. Good timing for blocking shots and able to run/push in transition.
Fit and Expectations
After a season with huge expectations but a disappointing ending, the Gaels have suffered the departure of some of their most iconic players in their recent history, such as Emmett Naar, Calvin Hermanson and Jock Landale. With the latter gone, Head Coach Randy Bennett went hunting for a big man with a similar potential. It might be early to say, but Tass seem to fit the bill. The Estonian shouldn't have problems to settle in a very international roster, and where fellow Baltic PG Kristers Zoriks will await his chances in the backcourt. Regarding his playing time and role, Seattle grad transfer Aaron Menzies will log most of the minutes at the 5th, playing alongside PFs Malik Fitts or Dan Fotu, while Jock Perry, Jordan Hunter and Tass will compete for the 2nd unit center spot. For Matthias, this is going to be a good chance to prove himself and develop as a reliable big man.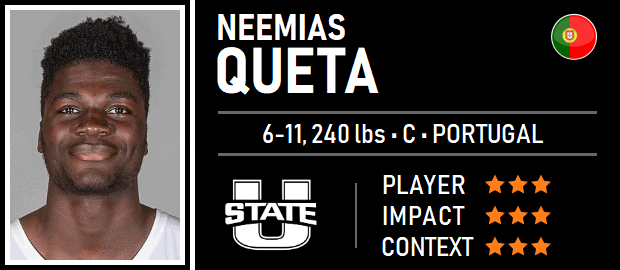 The FIBA Division B European youth tournaments are naturally among the most attractive competitions for the ever-growing college recruiters across the pond, as they represent an excellent chance for scouting some fairly unknown prospects extremely motivated to show their own potential. This has been the case for Neemias Queta, whose performances have put him into Division I school radars. After a breakthrough tournament at the 2017 FIBA U18, the Portuguese 6'10 center has seen multiple college scouts turning their heads towards him. This last summer, Queta was able to live up to the expectations: during the U20 tournament, he was a true force in the frontcourt, averaging 14.1 points and 10.3 rebounds per game. Prior to such impressive showing, Queta had already committed to Utah State. Surely his Portuguese connection with junior point-forward Diogo Brito helped the Aggies to recruit him.
Players Traits
Light on his feet and with good mobility on both sides. Despite his length and defensive role, he has not a massive frame and is not so explosive. Owns a fair footwork but could work on his balance when posting up.
Overall, he needs to develop his skillset, even though he has the ability to face the basket and drive, all combined with fair mechanics on mid-range set shots.
He acts more as a finisher on off-the-ball situations. Good at creating passing lines and receiving in the paint after PnR, or receiving an assist while cutting to the basket. Good use of his body to create an advantage with his back to the basket.
Active rebounder and efficient 2nd-chance scorer. Has serious upside as a rim protector thanks to his physical advantage. Quick feet and reactive in D: able to step out in PnR situations and contain guards on the drive after switches
Fit and Expectations
It hasn't been the best of times for the Utah State program lately, which forced the end of Tim Duryea's three-year tenure after he missed a post-season berth once again last season. They brought in head coach Craig Smith from South Dakota, but also lost Koby McEwen – arguably their best backcourt player -, who decided to transfer to Marquette. Also, DeAngelo Isby decided to turn pro, but at least they still have last year's leading scorer Sam Merrill. On the other hand, Aggies' frontcourt got the numbers, but it feels like it will be a work in progress in which senior Quinn Taylor will lead the way with some help from Klay Stall. The Aggies are adding three international newcomers to the line: JUCO Surinamese transfer Roche Grootfaam, Australian frosh Ben Fakira and our man Queta. Neemias comes in as the youngest of the core: he needs to polish his skills – which are pretty raw – in order to earn proper minutes on the court. However, his physical profile and mobility should fit Smith's up-tempo approach quite well. Queta brings toughness, hard working mentality and a high-ceiling potential for the years to come.