[nextpage title=" "]
A few weeks ago we wondered what happened to a few centers drafted last June who promptly disappeared from media reports. It was mentioned that, in this and in any other conversation about rookies in the Nba, luck is one of the most underrated part of the deal. The team picks, the youngster has to adjust to an environment or a locker room that might not fit him, he might be limited in playing time or deal with plenty of other troublesome situations. An example might be the case of Dragan Bender and Marquese Chriss. It is unclear what kind of player they will be, but as of right now, things are not looking good in Phoenix. The opposite could be said about Malcolm Brogdon. A second round pick for the Milwaukee Bucks, he proved to be the best player drafted in 2016 – and with a good margin on Jamal Murray and the rest of the competition. (Remember, Joel Embiid and Dario Saric are rookies, but were drafted in 2014). Brogdon was the right player at the right time and place.
Keeping this in mind, let's see what happened with a few Ncaa stars once they started their professional careers.
[/nextpage]
[nextpage title=" "]
Taurean Prince, F, Atlanta Hawks
Every fan of college basketball will remember the answer Taurean Prince gave to a journalist asking why Yale outrebounded his Baylor team (not that he is being missed, by looking at the AP ranking) in a huge upset last March.
The senior forward was pick #12 for the Atlanta Hawks, which was both good and bad thing for him. It was good because coach Mike Budenholzer and his staff are among the best in players development (just think of the career arc of DeMarre Carrol, now in Toronto, Jeff Teague, now with the Indiana Pacers, and Kent Bazemore). If he will let himself be coached, he will improve most likely than not. But he was always coachable. In his 4 years of college his numbers improved while his shooting percentages went down, a usual occurrence when the volume of shots goes up.
The bad part of it is that the Hawks roster has roughly 6 players who could play at his position, and most of them were part of the group that won 60 Regular Season games two years ago. He had his chance to play in 22 games out of 38 and even then, only played 10.6 minutes per game. In his time on the court, he did not do much to carve up a role for himself. In a small sample size, he has been shooting 32.1% from behind the arc, but it gets worse: 0.7 turnovers per game in just over 10 minutes will force coach Bud to hold him back.
However, the biggest issue is team defense and off-ball defense, much like any other rookie. In a short stretch in D-League (4 games, going from December 29th to January 6th) he averaged 21.8 points, 8.5 rebounds, 2 assists and 1.5 steals in 30 minutes per game. His D-League assignment was cut short after the Kyle Korver trade, but he still could not get on the floor. For a few days, it looked like the Hawks might blow it up and tank the rest of the way, a solution that would have allowed him and DeAndre Bembry to play real minutes, but it now seems Atlanta will live with the current roster. Did we mention that uncertainties are not helpful when developing rookies?
[/nextpage]
[nextpage title=" "]
Demetrius Jackson, PG, Boston Celtics
Jackson might be another overhyped second round draft pick for the Celtics that doesn't pan out. At first it happened with Jordan Mickey, 31st pick in the 2015 draft: over 4M in 4 years (with the last two unguaranteed), lots of hype, and he never made it into the rotation or had any kind of impact. Jackson was not as hyped as a prospect as Mickey but coach Brad Stevens himself sponsored the pick. He ended up making the roster of a team that picked 4 point guards in the last 3 years and that will have a lottery pick in a 2017 draft (courtesy of the Brooklyn Nets) with plenty of point guards with All Star potential in it. There's no room for Jackson in the Celtics roster, and his size (6 feet, 194 pounds) might be an issue in the Nba. He spent this season with the Maine Red Claws in D-League, and will probably stay there until next year. He has been averaging 18.7 points, 4.7 rebounds and 5.4 assists per game while being a leader on and off the court.
His personal history is well known to Ncaa fans and Notre Dame fans in particular: his character and attitude will always push him to do his best and then some, but the truth is, the context he finds himself into might not be the right one. For him to truly emerge, he might have to move to a new team, and even then, his ceiling might be in a sixth-man kind of role and be the first guard coming off the bench. Starting against the giants is not something normal people usually are capalbe of (unless we are talking about Isaiah Thomas). For the moment, staying in D-League and getting some playing time is the best thing that could have happened to him. His talent is worth the Nba and will find his way in his own time.
[/nextpage]
[nextpage title=" "]
Dejounte Murray, G, San Antonio Spurs
Murray's and Jackson's situations are similar, if it wasn't for a small caveat: Murray was drafted by the San Antonio Spurs. The ex Washington PG came into the draft as a talent with huge upside and an awful shooting form. But that's a simplistic way to put it. In his lone year at Washington he did not look like a prospect ready to jump to the Nba, and the fact that he did make that jump is surprising. He never truly dominated in college (16.1 points, 6 rebounds, 4.4 assists, 28.8% from three). And the point guard spot is the hardest one to master, even rookies deemed ready need 3 to 4 years to adjust to the nuances of the role.
Here comes the Spurs factor, a role-model franchise for organization, efficiency and expertise. The Spurs pioneered the use of D-League teams to develop players, and Murray has been averaging 17.7 points, 7.7 rebounds and 6.4 assists with the Austin Spurs, despite shooting 10.8% from behind the arc. But it's not just about the numbers. Bryn Forbes went undrafted but made the Spurs' roster in training camp and is assigned to the Austin Spurs. Forbes and Murray are one of the best backcourt duos in the Development League, and are taking the NBADL by storm. There's chemistry, potential and talent, and they are refining that mix together, because potentially they might be the next backcourt duo for the Spurs in the Nba.
Murray is a huge bet for the Spurs, who are confident they can fix his shot, thanks to
Chip Engelland
, the shooting coach that turned Kawhi Leonard into the player he is now. Also, keep in mind
the Spurs system does not need a shooter at the point
, Tony Parker was never a good shooter and he worked with Engelland as well, earlier in his career.
Murray certainly needs to bulk up and to play and get some reps. He will not be relevant in the Nba for a few years, but he is the one that will take over once Parker cannot handle it anymore. If the Spurs can't do it, then nobody could. Murray has the best chance he could possibly get, it's up to him now.
[/nextpage]
[nextpage title=" "]
Marcus Paige, PG, Salt Lake City Stars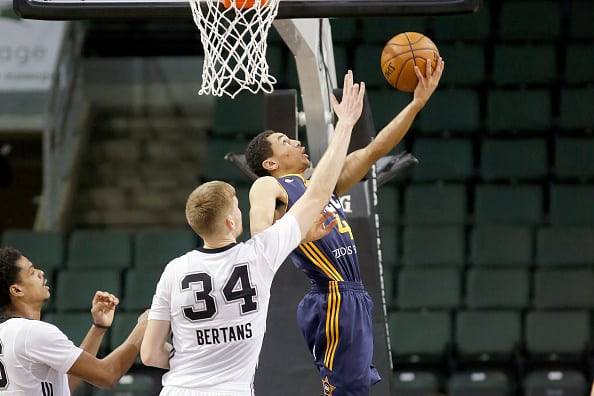 Paige had a very good senior year where he led North Carolina to a loss in the final against Villanova. He was the #55 pick for the Utah Jazz, but after spending the summer with the main team, he was waived and signed to the Salt Lake City Stars, the D-League affiliate of the Jazz. It is a pretty common path for second round picks, it was the same for Yogi Ferrell and the Brooklyn Nets. Unlike the Nets, the Jazz are a playoff team and have a deep roster at all positions. He is unlikely to get a call-up from the main team, and he might never make a team. As in, any team.
He has been averaging 12.6 points, 2.4 rebounds and 2.2 assists in 33 minutes, in line with his college averages. He has no Nba contract, since he was waived by the team, and his agreement with the Stars will expire at the end of the year. When that happens he will be a free agent, and if no team had to show some interest, he might decide to move to China or Europe to revive his career. The good part of this type of contract is that fringe Nba players have an easy way to an Nba roster, but in his case, it is not going to happen with the Jazz. Beside, he is not playing himself into a contract.
It might be the umpteenth case of an Ncaa star not making it to the Nba (ask Jimmer Fredette for information). As of today, the Stars have a depressing record, a terrible offense and an average defense (in a league that doesn't really have strong defensive schemes). The constant roster turnover is not enough to justify Paige's performances. He might find himself out of the Nba circles pretty soon. And if that had to happen, Europe will be more than glad to welcome him.
[/nextpage]