With his 1,000 rebounds and 2,000 points, Ethan Happ will be remembered as one of the best players in Wisconsin history and even in the Big Ten. He arrived in Madison as a three-star-prospect but, eventually, he became the pillar of the Badgers and was named twice for the Wooden Award. Happ is not the typical center: he struggles from the long distance but he owns a great ball-handing, something uncommon for a 6-foot-10 guy. It is no coincidence if, after his arrival, Vanoli Cremona has never lost and found its ideal asset. We went to know him better and this is what he told us about his rise in college basketball and about his transition to the European basketball. Everything, while celebrating his first Italian Thanksgiving!
When I read that your hometown is Milan, I thought you were Italian, but I wasn't the only one to make this mistake, was I?
Yes, a lot of people believe that: once, during a camp, all my teammates were surprised when they knew I was American!
I know that you are very proud of this linage and that you always underline that you are from South Milan. Why is that so important to you?
I have a special bound to my hometown, this is true: I always underline the right pronunciation and the fact that I am from South Milan as a form of respect towards the people who always believed in me, who were next to me when I moved my first steps into basketball, people I cherish very much and that I want to thank in that way.
And what about that story of the "bean-bag-boy"?
Ah! (he laughs) Is this story still on? Yes, it is connected to my hometown. It was one of my first matches at Wisconsin and my parents were supposed to give me a lift to the game. However, there were also two friends of mine (and great fans of the Badgers) on the van and eventually, there was no space for me. So, I had to sit in the backseat over a bean bag. Imagine a 6-foot-10 guy on a bean bag! Since then this nickname sticked to me.
You have a special bound to your college team. What did you find in Madison that made you decide for it after only 2 weeks from your visit?
First of all, the staff. After the visiting, I was really looking forwards to being part of this group. Coach Ryan and the atmosphere that he had created around him made me understand that it was the right place for me. Moreover, Wisconsin provided also a great academical program, I couldn't ask any better.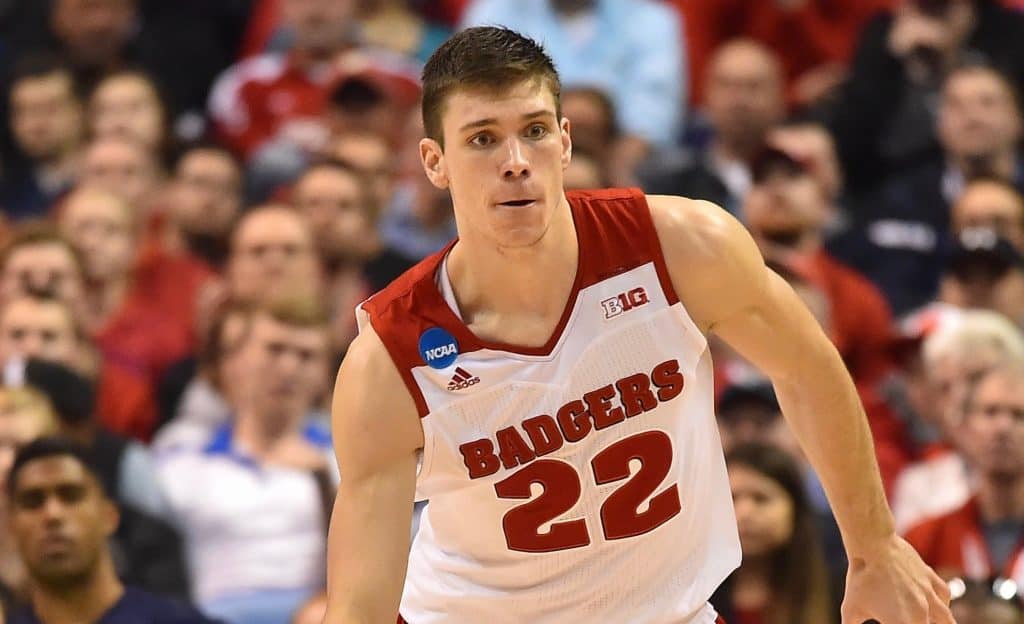 Speaking about coach Bo Ryan, did you expect that he would leave you when the season had already started?
Actually, his decision surprised all of us. Luckily the transition was not so traumatic and that season we were able to reach the Sweet 16 anyway.
How was the transition to coach Gard's style like?
I don't know if I can answer this. Indeed, they had two different visions of the game: Coach Ryan was an "old style" coach who would spend hours on the same scheme in order to make it perfect. On the other hand, coach Gard gave us more freedom.
In the 2014-2015 season you were a redshirt and that year the Badgers reached the Championship Final. Do you have any special memory of that match?
There's no need to say I'd rather have played, but I have a great memory of those two days. After all, having the chance to watch the Final Four from court-side seats is a unique experience. Moreover, there were my teammates playing.
In 2017-2018 you didn't make into the tournament, and you claimed that you felt responsible for that result. Why? In the end, basketball is a sport team, so why did you take so much responsibility for it?
Being a junior means you are a "upper class" player and this brings great responsibilities: You must be a guide to the freshmen and a reference to all your teammates. Even if basketball is a team sport, it is not acceptable that the best player doesn't play at his best. This is the reason why I felt so responsible for that bad result: I didn't do my job when it was the time.
Can you tell us the best memory you have of your college years?
Winning Villanova – the defending championship – for 65-62. Thanks to that victory we were able to enter the Sweet 16 back in 2017. It was a close match and it gave me great emotions.
You are not the typical centre and actually when you started playing you were a point guard. How this previous role did effect your game?
Yes, I was a point guard. Indeed, I was taller than all the other players in this role, but I always had a great ball-handing and I was able to do it very effectively. This is the reason why, my assist rate is great.
Did your father's training help you in developing this fundamental ? Can you give us some details? Any drill in particular that you remember?
Well, my father's training helped me a lot! There's no doubt! During the summer he used to give me a long list of drills and exercises that my father and I had to complete before I would come back from work. My father always pushed me to give my best and he also gave me the right motivation to strive to improve. I wanted to be better than him: If he could to do all these drills, well, so I had to do the same, and even better. The training session were tough as in Wisconsin summers are very humid and hot: It was not easy to train every day.
Is there any relation between chess and both your ability to play in your role and your basketball IQ?
Well I love playing chess and when I have time I challenge also my teammates and staff. Chess is a game that requires concentration and that obliges you to plan every move: You have to forecast your opponent's moves and block them; the very same skills that you have to have on court.
Throughout your career you have had to face many detractors, both at high school and college. How did you face them?
Simply by focusing on my game and on myself. If at the end of the day I knew I had given my best and that I had helped my teammates, I really didn't care about the critics. In basketball, the most important thing is that you play at your best and that you don't back down.
We know, however, that your weakest points are the free throws and the 3 point shots. Can you explain yourself why despite so much effort in improving them they are still a flaw in your game?
I must say that now, since I moved out from Wisconsin and I started playing in Europe, these aspects of my game are improving day by day. And this means that I am working in the right way.
You are in Europe now. Why did you take this decision?
First of all, when a great team such Olympiakos contacts you, you cannot decline. The idea of being part of such a great club was very exciting and so I signed. Now I am here in Cremona and I am aware that I am playing for an ambitious club. I am sure we gonna make great things this season.
19 points in your first game here in Italy: it looks like you fit perfectly in this new team. How was the impact with the Italian league like?
Sure, there are many differences between the college basket and the European professional one, but I must say I felt immediately at ease in this new context. And I am not speaking only about that particular match: I delivered another two good matches and I was able to give my contribution.
Is that true that you like making pranks to your teammates and that you have the videos of the best ones? Tell us the best.
(He laughs) Yes! I love it! I have just arrived here in Italy and before pranking my new teammates I'd like know them a bit better…but sure it's coming. Usually it is me coming out of the blue from unlikely places and filming the victims' reaction on my mobile. I have many many videos!
Thanks so much Ethan. I leave you to celebrate your first Thanksgiving.
Thanks. Actually I have celebrated Thanksgiving outside US twice during my college season as in this period we used to go to Bahamas to play the "Battle 4 Atlantis" tournament. So far, this Thanksgiving is something special. There are another two American players in the team and I was invited at Saunders' place to have the Thanksgiving dinner together as in the best American tradition. I couldn't be more thankful.