It was supposed to be a glory road to success for Duke, but so far, things didn't work out as expected. Grayson Allen has been tripping people all over the court, players got injured, coach K underwent back surgery and plenty of other disappointments overall. So far, Duke had Luke Kennard and Amile Jefferson to rely on. That is until Jefferson suffered a foot injury against Boston College, the same foot he fractured in 2015, and now Duke can only rely on the Ohio native, who has been playing incredibly well.
Ohio means LeBron James, although Franklin, Kennard's birth town, is on the opposite side of the state. It is a shadow that cannot be outrun: an Ohio basketball player will be compared to James. That's even more likely if the late Grantland writes about the "The Ohio's next great basketball talent", including footage of the dunk that justifies the take:
LeBron's deep roots in Ohio had the cascading effect of generating interest for the game and uncover plenty of young talents. And that has been a source of pride for James himself, pushing him to work harder on the King James Shooting Stars, the project he started and funded to develop young players. And he had high praises for Kennard in the past. The answer he gave to a journalist on a question about a "kid from Cincinnati" is telling. James knew very well who the journalist was talking about. Better, he had been keeping an eye on the kid for quite some time, since he had included him in his academy and met him personally in 2013.
The Blue Devils guard won the Ohio's Mr Basketball award twice, in 2014 and 2015, while James won it in three consecutive years from 2001 to 2003. Kennard scored more than James (2,977 points, against 2,646), beating every possible record for his high school and averaging 38.1 points and 9.7 rebounds in his last year.
Suddenly, boards like the one above showed up around the city, and Kennard became another source of pride for Franklin, after the opening of the first recycling plant in 1971. He was supposed to play football, he even had been named Ohio Division II Player of the Year after having 2,331-yard passing and 24 touchdowns. He is a good quarterback with his right hand…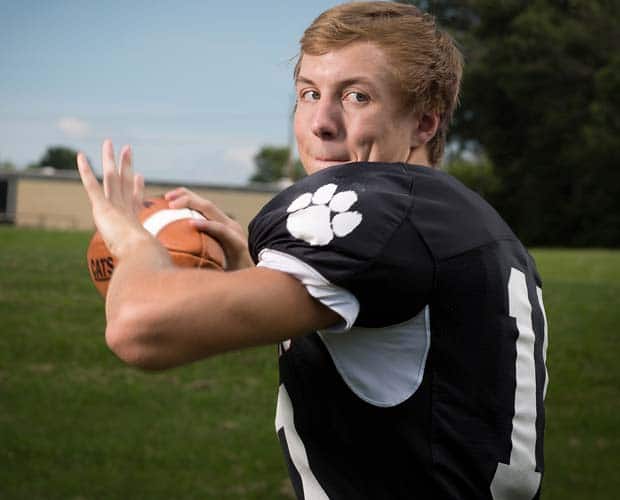 …but when it comes to basketball, it's all about the left hand.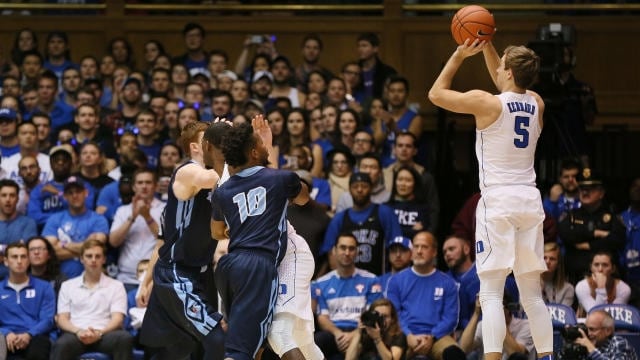 He was a five-star recruit for coach K., although Brandon Ingram stole the show last year. He had a solid season as a freshman, averaging 11.8 points, 3.6 rebounds and 1.5 assists per game while shooting 88.9% at the free throw line, best Blue Devils freshman in history. He was surrounded by stars, but the he still managed to score in double figures in 21 games, gaining minutes and trust from the coaches. He was a real sixth man, playing 36 games (11 starts). He also had his first career double-double (13 points, 11 rebounds) in a loss against Oregon in the Sweet 16, the last game of the season for Duke. But the real eye-opener was the game against Notre Dame, when he scored 30 points:
It looked like he had to keep his role this season, sixth man in a team that could now rely on Giles and Tatum and with Grayson Allen returning. 18 games later, his name is on top of the scoring and minutes played lists: 18th in the nation in offensive efficiency, 20.2 points per game, 44% from behind the arc, 87% at the free-throw line, 5.6 rebounds, 2.5 assists and 1 steal. Not too shabby.
He scored 35 points against Maine in early December and the very next game, on December 7th, at Madison Square Garden, he literally carried the Blue Devils against Florida (together with Amile Jefferson) with 28 points. And he kept it up. 13 points in the first 7 minutes of the game against Georgia Tech, 3-for-3 from the left side, to give Duke a 29-11 lead. The Yellow Jackets, after a huge win against North Carolina days before, were already done. He took it easy for the rest of the game and finished with 16 points, well below the 26.5 points he had been averaging in the previous six games.
Both coach K. and his assistant Jeff Capel keep him on the floor as long as possible: 35.4 minutes on average, 40 minutes against Florida State, 39 minutes against Louisville in the last two games played (and lost) by Duke, the #1 team in the ranking that fell to #18. It sure is not Kennard's fault. The Blue Devils are allowing 34.4 points in the paint, third worst among teams in the major conferences. Duke is also struggling away from the Cameron Indoor, with three losses in as many road games so far.
In a roster as tall and talented as any other, Kennard became the only reliable weapon, scoring less than 10 points in only one of 18 games. He was always considered a lethal shooter, especially on the left side,
but it is not wise to give him an opening to attack the paint.
He is the one player to count on in a team that has none. Yet, Duke might still make right to the 58 voters who brought the team at the #1 spot in the AP ranking in preseason.