[nextpage title=" "]
Gaels' consistency
The most white and most Australian team in the Ncaa showed just why it deserves to be included in the top 25 for the first time in history in the AP ranking, and why it is destined to stay in it. Only three teams had won at Dayton in the last 40 home games played by the Flyers, one of the best teams in the A10 even when they are missing two players, and Saint Mary's is now the fourth. The Gaels can count on one of the top backcourt in the nation and on an unexpected 20 points-10 rebounds average from Jock Landale, an Australian center who has been proving in his first year he is more than a big, tough body battling for rebounds.
Coach Randy Bennett's boys are always incredibly efficient as a team and they managed to get a 20-point lead in the second half against Dayton before risking to drag the game to overtime. Emmett Naar, uncharacteristically, made plenty of poor decisions in the last few possession, but went on to score the two free throws that iced the game. The lack of meaningful road wins brought the Gaels to be left out of the tournament last year. Things seem to be different right now.
Next man up for Virginia
Virginia first lost Anthony Gill and Mike Tobey, but had found its starting center in Austin Nichols, transferred from Memphis. As of today, Nichols' experience with the Cavaliers is over, after only one game. "It's a privilege to be part of this program and Austin has lost that privilege", coach Tony Bennett said, explaining that the young center has been suspended indefinitely for "violation of team rules". Nichols was solid in his sophomore year for the Tigers, averaging 13.3 points, 6.1 rebounds and 3.4 blocks. He was then sidelined for the entirety of last season and played only one game with UVA, scoring 11 points against St. Francis Brooklyn.
His suspension will open up more minutes for sophomores Jarred Reuter and Jack Salt, not necessarily a good thing, and for the African freshman Mamadi Diakite, athletic, thin, and with great bounce. Still, it is quite obvious there is now a hole in the Cavaliers frontcourt. No problems so far, and that is a real surprise, because their defense is the best in the nation with a ridiculous 41.8 points allowed per game. Yale came to the John Paul Jones Arena after averaging 94 points in the first two games and finished with only 38, after staying for almost 9 minutes in the second half without a basket. The offense will not be as fluid as it was last season, but their defense is always strong.
[/nextpage]
[nextpage title=" "]
Beware of Michigan
The Wolverines are serious candidate to the "underdog of the year" role, after they managed to win the Classic 2k at Madison Square Garden with wins over Marquette and SMU by a 20 points average. Coach John Beilein's team kept the Mustangs to 0.88 points per possession in the final game and limited an offensive force like Semi Ojeleye, who had been averaging 20 points and 9 rebounds, to an underwhelming 5-for-16 from the floor.
The only problem for the Wolverines is rebouding. SMU outrebounded Michigan 41-24 despite their big frontcourt of Moritz Wagner and Mark Donnal. Offense is not a problem thanks to Derrick Walton Jr, one of the most underestimated floor generals in the nation, who is very good at finding teammates open on the perimeter. And the two sharpshooters, Duncan Robinson and Muhammad Ali Abdur-Rahkman are the spearpoint of a team shooting 13-31 in the final game. Another positive is Zak Irvin, who seems to be back to his pre-injury level and won the 2k Classic Mvp award after averaging 16 points, 6.5 rebounds and 5 assists. Key to the team's defense is the versatility of D. J. Wilson, the one factor that tips the scale in their favor and will allow them to play against anyone this season.
A Belgian and an Australian
This is not the beginning of some joke, it is about Manu Lecomte and Jo Lual-Acuil Jr., the 1-5 combination that has been carrying Baylor early in this season and that had its moment of glory in the upset against Oregon (without Dillon Brooks). Lecomte, the Miami transfer, might be one of the protagonists in the Big 12 thanks to his ability to get him teammates in rhythm, and even more, to create for himself (18 points and 7 assists against the Ducks, 6-of-12 from three). You can have a taste of his game in here:
[gifanimata]G1sBWwIFB0iTS[/gifanimata]
The Australian center, on the other hand, can be a difference maker in the paint as a rebounder and rim protector. The 7-footer is averaging a double-double of 10 points and 10 rebounds and most important, 5.3 blocks per game. He had 7 blocks against Boucher and his teammates a couple of days ago.
[undefined]9iJ90fNZRltfy[/undefined]
Still, the Bears are Jonathan Motley's team, who put a lot of work in his mid-range game during summer. His position on draft night will likely depend on his development in that area. When adding to this mix the 2-3 zone employed by coach Scott Drew, a system that is forcing opponents to shoot 32.8% from the field and 3-of-21 from beyond the arc, Baylor should be considered a permanent member of the top 25.
[/nextpage]
[nextpage title=" "]
Go Creighton
The BlueJays had already laid the foundations for a solid season, and with their 4-0 start, it shouldn't be a surprise if they had to climb plenty of positions in the AP top 25 ranking. Marcus Foster is proving to be the scorer and closer this team needed, and Khyri Thomas cannot be discounted either, since he has been shooting an unsustainable 58% from three. All of this is happening because of Maurice Watson, who has been able to find his teammates open: his 9.8 assists per game have him as one of the best in the Ncaa.
On a team level, Creighton is still one of the best in the nation in shooting percentage and points per game, and they proved it by scoring 112 on North Carolina State. They are second in three-point percentage behind Wofford but with almost twice as many attempts. Coach Greg McDermott installed a system where players can play fast but have to be accurate and effective. Something similar to the Golden State Warriors, with the obvious adjustments.
Rice Owls and Marcus Evans
Marcus Evans and the Owls might be the Doug McDermott and the BlueJays of the next few years, since the sophomore has been keeping up with the best projections of the summer. So far, he has been averaging 23 points per game and might easily reach the 1,500 points mark by April, only to attempt to reach the 3,000 mark in the last two years. It looked like he was warming up in his first three games after the long Ncaa offseason, by going for 20, 22 and 29 against James Madison, Texas Southern and Omaha.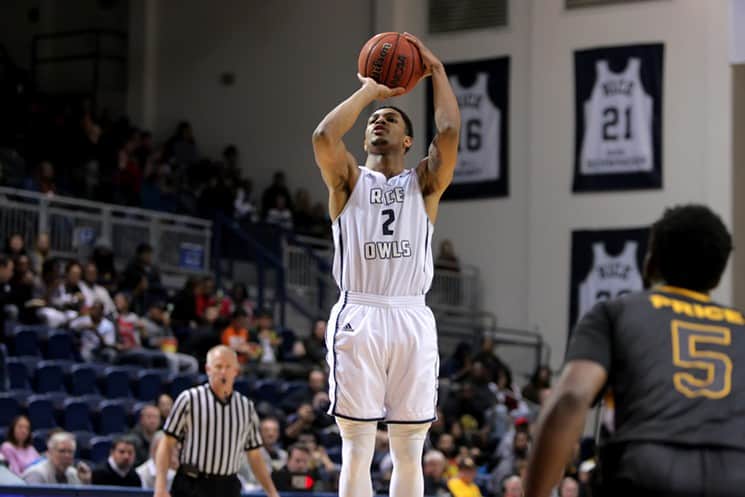 The team's rotation are quite short, with only 7 players averaging more than 10 minutes on the floor. The junior duo of Egor Koulechov and Marcus Jackson is keeping the same scoring average from last year, but with better efficiency. In the next games, it is worth to keep an eye on the other sophomore at roster, Connor Cashaw, who jumped from 8.5 points last season to 12 points in these three games.
[/nextpage]
[nextpage title=" "]
Silicon Valley faces for Gonzaga
Ever heard of the HBO series Silicon Valley? Then take Przemek Karnowski, Zach Collins and Killan Tillie and put them next to Richard Hendricks and Erlich Bachmann. Everything will look just fine. The team coached by Mark Few is 3-0 in the season and already won against San Diego State's tough defense, and it was that trio that made it possible. Karnowski is and will be the center of every offensive possession for the Bulldogs. He is an all around player who can do a little bit of everything as a center, drawing the attention of every defense and creating the space for his teammates to be open. Collins and Tille, on the other hand, are the fuel that burns through this team. After the starter's hesitant opening minutes against the Aztecs, their energy tipped the balance of the game.
If their frontcourt seems to be deep and talented (Jonathan Williams has been hot in this first three games), the backcourt still needs to sort itself out. While Nigel Williams-Goss is filling up the box score, Jordan Mathews could not find any consistency early on. His four consecutive makes from behind the three-point line were crucial in the win against SDSU, but he then went 0-3 from three against Bryant University. Coach Few has everything he needs to lead the Bulldogs to a great season: a balanced team, experienced but at the same time young and carefree. Saint Mary's has been warned, the Bulldogs are for real.
The sorrow of the youngsters
An easy game against Mississippi State (28 wins in the last 4 years combined), and another that went down to the wire against the ex Dunk City Florida Gulf Coast are not enough to print a smile on coach Tom Izzo's face, after the two losses against Arizona and Kentucky. Even the Hall of Fame coach had to deal with the reality of having so many freshmen, four, at roster, and with losses that are a natural consequence of age and inexperience. The record could have been 1-3, but thanks to Eron Harris, who seems to be his old self after he scored 31 points against FGCU, and to an incredible mistake with the clock that forced the Big 10 to publicly apologize.
Izzo's teams rarely are at their best this early in the season and they usually peak in March, but the team cannot afford to compromise its path to the tournament. Eron Harris is back (6-of-6 from behind the arc), but Miles Bridges got the memo about being a freshman and having bad games. Izzo has the best group of freshmen he ever recruited and potentially the best team, but it seems he will have to take a different path than usual to build a great season.
[/nextpage]
[nextpage title=" "]
Another star in Los Angeles
UCLA's season has only one protagonist so far, Lonzo Ball. T. J. Leaf, a five star recruit, is just fine with that, since that allows him to roam around the court and benefit from the attention opposing defenses are paying to the Bruins backcourt. The power forward has been averaging 20.3 points and 10 rebounds per game so far. That, of course, is not only due to the gravitational pull of Lonzo Ball and the other guards. He is a talented and athletic 6-10 forward and can fit easily in coach Steve Alford's uptempo system. He has a solid jumper and he is not afraid to let it fly, even from behind the arc, he can play in the post and has good court vision (2.5 assists per game) for his position.
[gifanimata]dmnRxYiD7Wb6w[/gifanimata]
Leaf is top 40 in the nation in offensive efficiency and is shooting a preposterous 89.2% from inside the three-point line. He is certainly not feeling the pressure of playing for UCLA in such a crucial season, since he started with 22 points and 15 rebounds in the opener against Pacific and then had another 21 points-9 rebounds game against Long Beach State.
[/nextpage]
[nextpage title=" "]
Payback time
The Rutgers Scarlet Knights have not had such a good start since 2000. If the first two wins came against inferior opponents in Molloy and Drexel, their 66-59 win against a Big East opponent in DePaul and the 78-65 home win against Niagara are more impressive.
Steve Pikiell is the first rookie coach in Rutgers history to start 4-0, but he still keeps his team well grounded: "We've got a long ways to go. I'm happy we've got a good start, but it doesn't mean a whole heck of a lot to me".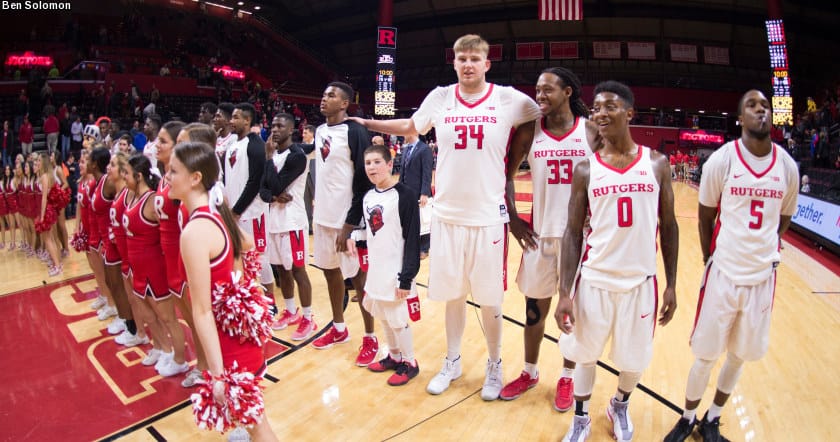 The Scarlet Knights built their early success on rebounds and defense. That's what Pikiell has been preaching since he started building the roster. Rutgers has been dominating the boards so far: first overall in defensive rebound percentage (51.8%) and 35 total boards in the last two games combined, thanks to the size and verticality of the roster. Those particular skills allow for a very aggressive zone defense on the perimeter that can switch sides in a pinch. Opponents are shooting only 35.9% from the inside the three-point line and 42% overall from the field. They did not play any of the top teams in the nation, but they have plenty to build on.
[/nextpage]